Summer has once again thrown its warm and loving arms around Toronto, meaning that the drive to sweetly air conditioned multiplexes has reached its zenith for the year. As an alternative, however, more and more outdoor screening series have been popping up in the city to keep people cool after dusk. Here's a look at the five most notable series, but there are certainly plenty more, some of which haven't even been announced yet.
TIFF in the Park: A Summer of Romance
Every Wednesday night from July 3rd to August 28th in David Pecaut Square (just between Metro Hall and Roy Thompson Hall on King Street, approximately half a block away from TIFF's Lightbox home base), the city's biggest festival asks people to get a little closer with a look at some of the greatest romances of the 20th century (and one from the 21st in the form of series closer The Notebook, but almost all of that takes place in the 20th century so…). Kicking off this week with one of the undisputed kings of romance, Casablanca, the series blends the comedic and dramatic. Modern rom-coms are represented with a pair of classics: Moonstruck (July 10th) and Sleepless in Seattle (July 24th). Those looking for more old school delights can thrill to Charlie Chaplin's masterpiece City Lights (July 17th) or Audrey Hepburn and Gregory Peck in Roman Holiday (August 21st). Fans of more serious romances can catch a glimpse of younger Barbara Streisand and Robert Redford in Sydney Pollack's The Way We Were (July 31st). Those who like their classics with a bit of modernist flair will enjoy Ang Lee's adaptation of Jane Austen's Sense and Sensibility (August 14th), or they can take it even further with Amy Heckerling's Austen inspired high school comedy Clueless (August 7th). Films start at approximately 9:15pm and admission is free.
Free Flicks at Harbourfront Centre
NOW Magazine head film writer Norm Wilner returns to the WestJet stage and Harbourfront's lakeside open air amphitheatre not only to host, but to also help program this year's eclectic round-up of astoundingly fun movies all tying into a theme of "invented worlds," meaning those realms just  left of centre to our own.
It all starts this Wednesday night with what might be the first ever free public Canadian screening of the Director's Cut of Frank Oz's 1986 Little Shop of Horrors reboot. Although recently released in finished form for the first time on Blu-Ray earlier this year, Little Shop's original cut (which studio executive David Geffen loathed so much that a previous DVD including the film's original black and white and almost silent 30 minutes surfaced earlier in the decade he ordered it pulled from shelves immediately), those who aren't familiar with the original intent are in for a definite shock. It's a night and day difference between this version and the original. It's brave and bold to be sure, but it's still hard to say that it's the better of the two endings. It's certainly a lot longer and far more depressing, but that might be saying too much.
Things are a bit lighter with the feel good antics of the uproarious sci-fi comedy Galaxy Quest (July 10th), the underrated zaniness of the Zuckers' spy spoof Top Secret! (July 24th), and Tom Hanks' directorial debut That Thing You Do! (August 14th). A pair of animated features – The Triplets of Bellville (August 7th) and Wallace & Gromit in Curse of the Were-Rabbit (July 17th) – will warm the hearts of viewers young and old. And it all ends on Wednesday, August 28th with an online viewer voted selection between Moulin Rouge, Fantastic Mr. Fox, and Sky Captain and the World of Tomorrow, but something tells me that first one will end up winning despite there not being any wrong answers.
But while all of that is pretty great programming, I need a moment to stop and tell you all that this series also includes two of the absolutely most underrated masterpieces in cinematic history: Streets of Fire (July 31st) and Josie and the Pussycats (August 21st). I don't mean that in an ironic or joking way, either. Both criminally misunderstood upon their releases in 1984 and 2001, respectively, they are far past due for everyone to understand their musical joys. From action director Walter Hill, Streets of Fire might be one of the boldest musical romance and gangster films of the era. Josie, on the other hand, is one of the funniest and sharpest critiques of consumer culture ever created. Okay, so neither might have aged all that well since their release, but that almost adds to the charm. They also make for awesome sing-alongs. You should really go to these. If I could set up shuttle buses to bring people down there myself, I totally would.
Shows start around 9 and admission is also free.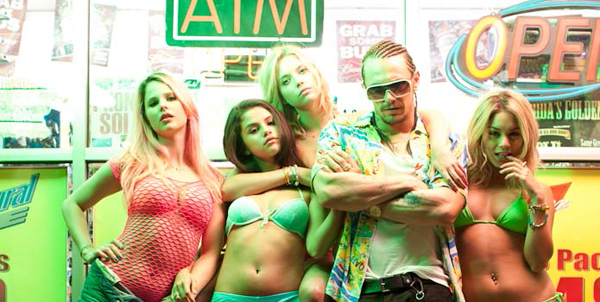 Although it kicked off two weeks ago, the Open Roof Festival – a blending of film and live music – continues at its new digs at the Corus Building on Queens Quay every Thursday nights. The series pairs musical acts with more recent fare, leading to the $15 admission price, but there's also pretty great food and drink options available here from local vendors that the other screenings don't really have as readily available.
This week's selection (with doors opening at 7:30) pairs up Sean Garrity's TIFF Canada's Top Ten Selection My Awkward Sexual Adventure with the musical stylings of Lilly Mason. The following week's film – Harmony Korine's polarizing Spring Breakers – has already sold out its advance tickets (ditto the August 15th screening of the recently released documentary How to Make Money Selling Drugs), but more tickets will be available at the door for both. Also screening, the Canadian coming of age tale Molly Maxwell (July 18th), the "guy with a small penis" documentary Unhung Hero (July 25th), skateboarder doc Bones Brigade (August 1st), NYC graffiti based dramedy Gimme the Loot (August 8th), and this year's big American indie success story, The Kings of Summer (August 22nd) closes everything out.
Entering its third year and housed in one of the most gorgeous parks the city has at its disposal, the Christie Pits Film Festival wisely sets itself apart by doing free weekend evening screenings (starting around dusk) to set it apart from its seemingly more competitive brethren.
This year's festival brings a similar musical thing kicking off with the also-showing-at-Harbourfront That Thing You Do! on July 7th. It's the only non-fiction film of the bunch, as all the remaining selections are music documentary royalty. The Maysles' Gimmie Shelter (which is one of the greatest docs of all time, period) screens on July 14th. Shut Up and Play the Hits (July 20th) is a raucous and joyous look at the final on-stage performance of LCD Soundsystem. On July 21st, The Buena Vista Social Club will take viewers to a jazz and world music wonderland. It all ends, somewhat appropriately, on July 28th with Martin Scorsese's The Last Waltz, a look at The Band's swan song.
Once again proving to be one of the most intriguing neighbourhoods in the city, The Junction gets its own outdoor festival on every other Friday through July and August at the iconic train platform at Dundas West and Pacific Avenue. They kicked off last month with a screening of Buster Keaton's silent classic Steamboat Bill (on 16mm and with live musical accompaniment, to boot) on the solstice, but the rest of the line up holds its fair share of musical and campy enjoyment.
The series picks up again this Friday with a sci-fi stop motion double bill: The highly ambitious 1935 Ray Harryhausen production Things to Come and last year's Harryhausen inspired Manborg screen back to back starting at 9:30, with an appearance from Manborg director Steve Kostanski. Things get a bit more musically inclined on the 19th with Greenwich Village: The Music That Changed a Generation. August 2nd finds the series screening Citizen Kane, which should need no introduction. Yung Chang's documentary The Fruit Hunters screens on August 16th. As you can see, this series has arguably the most eclectic and wide ranging of options, and it's reflected in the closing film to be determined by audience choice. Options include the dance musical Top Hat, the original King Kong, Robert Wise's The Set-Up, Jason Lapeyere's mental health documentary Faceless, and Hot Docs 2012 favourite Ping Pong.
Advertisement
---
---
Advertisement
---
FROM AROUND THE WEB
Advertisement