Promotional material for Season three of Orange Is the New Black featured the characters arranged with their likenesses on religious candles. One cannot deny "The Third Coming" effigies foreshadow themes of faith and religion that ripple through this season of Orange.
"Trust No Bitch" bookends this season with reflections on what those at Litchfield believe in, while also giving us a glimpse at what might be next.
Neither Heaven Nor Hell
A scene from Brook Soso's past shows us her hard-ass mom giving her grief over her "lazy" piano playing. "There is no hell, there is no heaven" says her mother. Only how you're remembered.
One can wonder if Soso thought back to this before taking fistfuls of Benadryl in an attempt to end her life. Poussey, Suzanne, and Taystee prove to be Soso's saving grace, getting her to vomit up the pills to keep her away from the dreaded Psychiatric Ward.
Psyche is even worse than the Shu, a place Angie Rice has just come out of. In her own words, it's "seriously the worst thing that's ever happened to me counting that time I smoked crack thinking it was meth, then took four shots of Everclear and ate cat poop."
Leanne blames her for wasting Norma's "miracle" of her accidental release. Searching for a sign, Leanne finds Norma's face in a piece of toast revitalizing the movement and bringing back some strayed followers. Reduced to worshipping burnt bread, it looks like they've graduated to a full-blown cult. Poussey tells them as much, chastising Norma for letting the hateful Leanne run the show and shun Soso.
Angie eats Toast Norma and Real Norma finally sees what a negative force Leanne has had on her mission. She casts her former mouthpiece out of flock, ostensibly ending her so-called religion.
Caputo and Danny are set to have a meeting with Danny's SVP "magical manipulative wizard" of a father to get Sophia Burset out of the dreaded Shu. After Daddy Paget berates his son for not knowing the "dance" of business dealings, Danny cracks and quits his job on the spot. Joe Caputo is left alone in his crusade for justice.
"I think I found my people." Cindy "Tova" Hayes
It may have begun as play for scrumptious food, but it appears Cindy's desire to convert to Judaism is hardly an act. Cindy pleads her case to the Rent-a-Rabbi. In an uncharacteristic display of earnest emotions, Cindy rationalizes how being a Jew is something that makes sense to her. Compared to her fire-and-brimstone vs. pearly-gates Christian upbringing, Judaism is like a verb, "you DO god."
She receives the three answers of "yes" which confirm her as one of the Chosen People; however, it isn't completely official until her Mikvah—but the prison doesn't have the freestanding body of water required for the ritual.
The Forsaken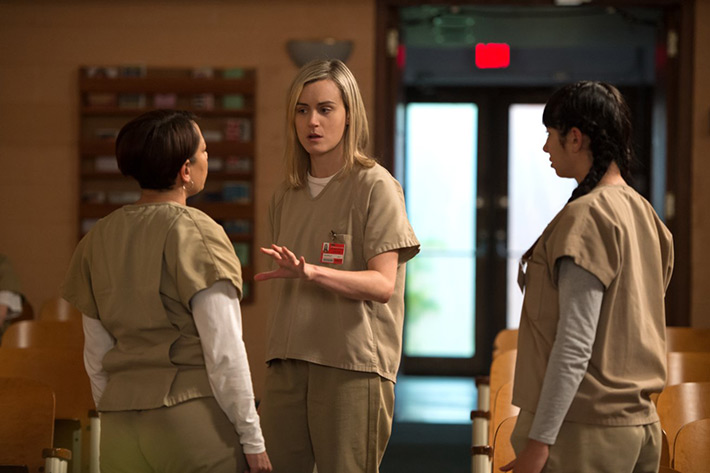 Piper's steeping into her new "Godfather" panty boss role. Flaca begs to be let back into the business so she can supplement her mother's costly lymphoma treatments. Piper agrees to take her back on—but at a lower rate then the other women. Alex warns Piper that this move will make her be perceived as soft. Piper scoffs at this idea, but it appears the "good benevolent dictator" does have a weakness; all of her money has been stolen and after accusing the freshly forgiven Flaca, Piper realizes it's her Aussie squeeze and tattoo artist Stella who's ripped her off.
The searing pain of irony hurts more than Piper's new white ink tat bearing the words that give the episode its name. "You fucked me!" Piper whisper-shouts at her partner.
Caputo attempts to fuck Fig who makes sounds akin to a squeaky toy. The stress of his job and impotence in the workplace has lead to…well, his impotence. His hate-fuck buddy and only confidant tells him to stop looking out for the "little guy", and now that Danny is out of the picture Caputo should go for the job as "Director of Human Activities." Fig's firm advice puts Caputo back in action and he goes in for some butt sex.
"We ain't Swedish enough to be splitting his starfish." Tiffany "Pennsatucky" Dogget
When teenaged Boo is resuscitated from a dangerous heart arrhythmia after being electrocuted by a microwave, she proclaims, "There's no god. There's nothing."
Although there's no omnipotent figure in her life, Boo does believe in justice. Justice she doesn't think is being rightfully served to the rapist Coates. She and Pennsatucky were unable to go through with their Dragon Tattoo inspired plan, but Penn feels good about it, "I ain't a rapist."
To get out of the van duty where Coates routinely sexually assaults her, Penn fakes a seizure and is deemed unfit to drive. Boo and Penn take a moment to celebrate, only to watch as Penn's replacement Ramos gets into the van with the known assailant. How are they going to save her?
Saviour Syndrome
Gloria is racked with guilt over Sophia's attack and fate in the Shu. She goes to Sister Ingalls to confess the sin of doing nothing when the vicious rumours about Burset began to fly. The whole ordeal started with the two dueling it out over their sons—a son Gloria desperately wanted and we see was given to her by the power of Santeria. But will enough Hail Mary's be able to repair the damage done?
"You're really bad at your job Mr. Healy." Brook Soso
As a young man, Sam Healy pounds on the door of his local church looking for some help for his mentally ill mother. He's met by a homeless man who looks like Jesus who proceeds to barf all over him before collapsing on the young boy.
After yelling at his wife Katia for her sourpuss expression and not bringing home Olive Garden lasagna leftovers, Healy asks her what she wants. "My freedom" says his mail order Ukrainian bride. He resigns to get her and her mother an apartment; "I'm surrounded by women in captivity all day long. I don't need to come home to another one who feels like she's trapped in a cage."
No Such Thing As Fairy tales
"I want to know what love is." Lorna Morello
At Morello's first communion, she refuses to eat the Eucharist cracker because for her the whole point is to wear the white dress.
She may not be able to wear a gown at her wedding to Vincent Muccio, but she's more than happy to marry the man in the prison, using Foreigner lyrics as her vows. CO Bell turns a blind eye as Morello and Vinny consummate the shit out of their marriage up against the vending machines.
Red believes in Valentina Tereshkova and that there are no fairytale endings, but that doesn't stop her from getting choked up at Morello's nuptials. She and Healy exchange a heartfelt glance during the ceremony, but when Healy brings up the possibility (furthering their "special relationship") she tells him, "Our ships passed too late in the night for one of them to change course" before leaving him with some flowers that sit on his desk next to apology leftover pasta sent to him by Katia. How he ends up getting the affections of two women is beyond me, but there you are.
"There's never any dignity at the end." Galina "Red" Rezankoff
Piper finds Stella and tells her that she "came to say goodbye." Stella's confused because she won't be getting out for a few days, but three guards show up to do a search of her quarters. Most of the illegal contraband Piper found during her search for a cell phone (including a chicken leg) is sprinkled around Stella's bunk—ensuring she'll be sent to Max with an extended sentence. This solidifies Piper's credentials as a stone cold prison gang leader, and the fact that she's kind of insane.
With paranoia and anxiety behind her, Alex practically scoffs at the ramblings of her once suspected assassin Lolly who warns her about the new toothpick sucking guard, "Thanks I'll be careful" she says with an eye roll, "You will be dead" heeds Lolly.
Alex is told to stay back in the greenhouse to sweep up and is suddenly face-to-face with none other than Aiden—one of Kubra's murderous employees. "You don't have to do this" pleads Alex, but it seems he's intent on taking her out. We'll have to wait until next season to see if she lives or dies.
Aleida finds her daughter Daya back in the prison after she gave birth to her baby. Daya's happy that her mother arranged to have her child taken away by family—instead of giving her away for adoption to Ms. Powell. Aleida explains there's hope yet for a child, "Marc Anthony grew up in the projects and now he's rich and gets to stick it to J-Lo even though he's pocket sized."
However, what the two don't know is that baby Diaz's caretaker Cesar gets busted by the DEA and the poor baby girl (we never learn her name) is taken away.
The foretold "voluntary" meeting with MCC is called and it's none other than Joe "Judas" Caputo who reveals himself as the face of the union crushing MCC. It's going to be the "Year of Caputo" and he's done with being a "good guy." The senior officers take his advice from the previous meeting when he was their leader and that the prison needs them more than they need the prison. Many of them say a rightly deserved "fuck you." before walking off the job.
Lake of Freedom
Perhaps it's a miracle, or more than likely just a coincidence.
When maintenance workers begin to replace Chang's orange hole fence, they leave a gap. Norma is the first in a flurry of women who make a run for the lake that lies on the other side. Splashing and laughing in the water, we see how the inmates rejoice in this moment of freedom. Poussey and Soso float towards one another — two women overcome by loneliness find solace in a new companion. Gloria and Flaca are able to let bygones be bygones. Suzanne and her super fan Maureen have a hilarious/weird misunderstanding over a turtle. Cindy is able to have a proper Mikva by submerging her naked body in the cleansing water. Sister Ingalls removes her bra.
While the revelry ensues just outside the prison's perimeter, the promised new bunks are being installed—bunk beds to be more specific. It's not just new furniture arriving at the prison, but rather bodies to fill the newly doubled beds.
We see busloads of orange jumpsuit clad women line up ready to be the new additions to the many characters Orange has to offer.
Out In The Yard
Unlike the season finales before it, "Trust No Bitch" feels less like a wrap up, but more like a chapter in a saga. Like the fan's of Suzanne's Time Hump Chronicles, I anxiously await the next installment. Thankfully, unlike the confiscated space themed erotica, Season four is currently filming and is set to debut sometime next year.
I'm especially excited to see how domestic diva Judy King does at Litchfield. There was a whole lot of buildup to her will-she won't-she come to Litchfield storyline and it's a real tease to have her arrive in the last episode of the season.
When does Piper go home? She mentions she had 6-12 months left on her sentence, but if I were to put my money on anything she gets carried away with her Godfather business and/or meets a bigger fish and gets more time.
In other predictions: I think Nicky will come back from Max, Alex will live another day, Berdie Rogers will figure out a way to put Healy in his place.
Advertisement
---
---
Advertisement
---
FROM AROUND THE WEB
Advertisement