A hero of the indie circuit with a legitimate knack for homing in on the current American spirit, filmmaker Kelly Reichardt has become recognized by many as tragically overlooked by many, many others. Well look over no longer, Toronto, as this week the TIFF Bell Lightbox begins a retrospective on the filmmaker, screening her catalog of films from the past two decades, including Wendy and Lucy, Rivers of Grass and her latest, Meek's Cutoff. I had the pleasure of watching a selection of some of the films to be played and can give you an idea of why the Lightbox is deeming her qualified for the title of New Auteur.
Meek's Cutoff, 2010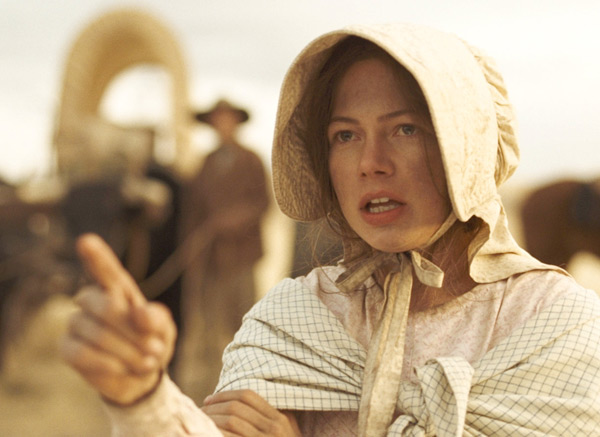 Her first period piece and easily most ambitious feature to date, Meek's Cutoff is a film that wraps its style of narrative not only around a core themes of hope, trust and ambiguity, but the hindrance of limited perspective. Starring Michelle Williams, Bruce Greenwood and Paul Dano (who's starting to seem like he's trapped on the American frontier and we're just catching up on the documentation), Meek's Cutoff tells the tale of three families traveling the Oregon Trail in hopes of a better life. However, their confidence in their guide, Stephen Meek (Greenwood), begins to falter as his ego inflates despite the goal being nowhere in sight. Things escalate upon the apprehension of a native who had been trailing them, forcing members of the convoy to decide between an outdoorsman who may be mostly talk, and a healthy, threatening looking stranger who cannot talk to them at all.
Performances are on high as the cast, Williams especially, focused on portraying, of all things, a strong sense of rebounding indifference, all amidst an environment of unknowing. Small gestures are projected into layered reactions, and Reichardt's direction almost seems to indicate each shot is a moment important specifically to a single character (a pregnant wife chasing after a hat in the wind or a man alone carving despairing words into the side of a log.) Fans who have been following Reichardt thus far should be very interested in seeing her largest divergence from her typical, contemporary material. Though, that said, I guess it does still take place in Oregon.
Old Joy, 2006

The journey isn't defined by it's starting point or its destination, usually it's defined by the journey itself. The course, the hiccups and the stretches of silence; until we figure out this teleportation thing, there will forever be bulk portions of our time dedicated to traveling and meandering. Reichardt films recognize that most people don't necessarily feel global cataclysm when they experience dramatic junctions in their life. Daniel London and Will Oldham (AKA alt folk artist Bonnie 'Prince' Billy) play two friends who, as decided by Kurt (Oldham), take a short road trip into the wilderness, hoping to reconnect.
A simple story told with a lot of visual poetry, Old Joy shows that most, real conflict between two individuals bubbles under the skin, either never coming out in simple language or requiring a few beers to reveal itself in some form or another. Kurt is a humble, well meaning but simple individual, who's feeling increasingly distant from a long time friend that's now married with a child on the way; whereas Mark (London) continues to wonder if he's 'over this' or can really rekindle his friendship. Somber and touching, Old Joy says more by saying very little, while also using political talk radio to emphasize the frustrating, passive-aggressive dance we perform with conflict that so often obscures our day to day lives.

Wendy and Lucy, 2008
Probably my favourite Reichardt film, though that may be my dog-person bias speaking, Wendy and Lucy is a powerful and touching tale of love and how badly it hurts to fall. Michelle Williams is powerful as Wendy, a woman on a last-ditch effort to take control of her life by relocating to Alaska, via living out of her car, taking her only companion along with her, an affectionate canine named Lucy. Not necessarily surrounded by bad people, just a bad situation, Wendy's already fragile plan implodes after being caught shoplifting and upon getting back to the scene of her capture discovers that her beloved dog is gone.
Kindness isn't always enough but it's definitely something, and Wendy, with really very little else, tries to piece things back together from the patience of strangers alone. A refreshing jab of neorealism, Wendy and Lucy boils all the conflict, woe and depravity in our topical, distracted world into a tale that has something recognizable to link with anyone. Even cat people.
The retrospective runs at the Lightbox from May 12th to the 17th. Details on screening times and tickets can be found on the official site.
Advertisement
---
---
Advertisement
---
FROM AROUND THE WEB
Advertisement