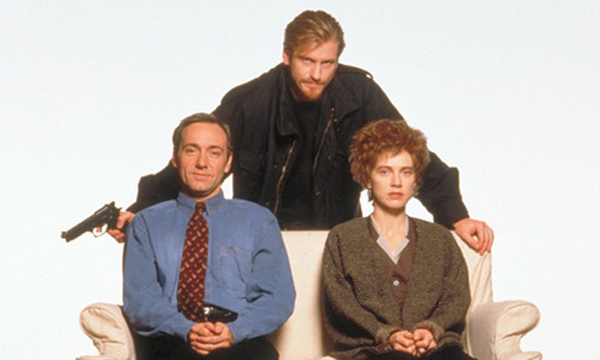 Happy holidays, guys. Why are we doing this film now, you might ask? Because today is actually its anniversary.
The Ref
Release Date: March 9th, 1994 (20th anniversary, Opened on a Wednesday in New York and LA before going wide on Friday)
Opening Weekend Box Office:  $3 million (#4, 701 screens)
Other notable films opening that weekend: The Nicolas Cage/Shirley MacLaine comedy Guarding Tess would open and debut at number one, followed kind of inexplicably by the Paul Hogan and Cuba Gooding Jr. comedic western Lightning Jack. Outside the top ten, however, was the Coen Brothers film The Hudsucker Proxy, which was released very quietly because Warner Brothers didn't really have clue what to do with it.
Days in theatrical release: 71 days (pulled from theatres on May 5th)
Final box office take: $11.4 million
Estimated Budget: $11 million
How I remember The Ref:
I watch it every year around the holidays. I would say that's a pretty great way to remember something.
It's a fact that any movie that takes place on or around the holidays would get trotted out by people during the yuletide season to get into/out of the festive sprit. This is regardless of a film's ultimate release date. Die Hard and Gremlins were both summer blockbusters with massive holiday appeal and both of those have managed to gain pretty stellar reputations among Christmas movie aficionados. Then you also have films like Surviving Christmas, which is a holiday film so terrible that it was buried in September.
But perhaps the most curious middle ground for this kind of film is held by Ted Demme's 1994 comedy The Ref. A film that takes place during the holidays, comes with a hard R rating for foul language, was released in March by a studio that seemed to have little faith in it, and it has still somehow developed a small, but fervent cult reputation as a high quality Christmas movie. It's a smart and incredibly literate comedy that deserved a lot better than it ultimately got. It also marked the best ever vehicle for the film's star, one of the best screenplays from a writer of note, a great film in the career of a director that was taken from us far too soon, and a comeback for a pair of big time producers that had fallen on harsh times.
The set-up for The Ref is so simple, yet so timeless that if one were to take out all the cursing and vague pop culture referencing it could take place in any time period. Dennis Leary stars as Gus a cat burglar that has recently botched a jewel theft and has been left stranded by his idiot accomplice (Richard Bright) on Christmas Eve. With the police closing in around him and the small, affluent Connecticut suburb providing him with no easy options to lie low, he takes a family hostage until the heat blows over. Unfortunately, he has picked the absolute wrong family to threaten at gunpoint; not because they are fighting back, but because their bickering might cause the usually nonviolent Gus to shoot the lot of them.
The house belongs to Caroline and Lloyd Chaucer (Judy Davis and Kevin Spacey), a couple that's constantly at each other's throats on even the most inconsequential of matters. Caroline is cold, calculating, and carrying on with another man behind Lloyd's back. Lloyd is hysterical, high strung, sarcastic, ineffective, and he seemingly hates his son Jesse (Robert J. Steinmiller Jr.) because he needs someone to blame for why his life is a shambles. As they prepare to celebrate Santa Lucia Day, small town hospitality, even bigger asshole relatives (including an excellent Christine Baranski as Lloyd's sister-in-law), and a blackmail plot perpetrated by Jesse against his one of his military school instructors (JK Simmons) all force Gus to pretend both figuratively and literally to play marriage counsellor for the Chaucers.
The Ref was written by Richard LaGravenese and his sister-in-law Marie Weiss around the same time that he wrote, sold, and began getting acclaim for his second major feature The Fisher King, which was a big success for director Terry Gilliam (still atoning for losing shit loads of money on The Adventures of Baron Munchausen) and stars Robin Williams, Jeff Bridges, and Mercedes Ruehl (who would win a Supporting Actress Academy Award here) in 1991. The Fisher King would net a Best Original Screenplay for LaGravenese, making studios very interested in working with this hot new talent that had previously only co-written the Cheech Marin and Eric Roberts hippie comedy Rude Awakening in 1989.
Based on his own experiences in being a part of a hybrid Jewish and Catholic family taken to gratuitous and not exactly autobiographical extremes, The Ref caught the eye of Disney imprint Touchstone films, who by LaGravenese's account gave a green light to the production after a simple pitch and a 20 minute meeting. Then, as happens with most films, the production lapsed into development hell. LaGravenese did numerous rewrites on the project for conflicted executives that were unsure how the film's humour would play out. After a full year of working almost exclusively on The Ref, LaGravenese stopped caring and he kind of walked away from it. Not exactly thrilled to give it to anyone else, Disney sat on the screenplay for several years.
The people who would ultimately be responsible for the resurrection of The Ref are a pair of megaproducers that need no introduction. Don Simpson and Jerry Bruckheimer were the kings of the high concept blockbuster in the early 1980s. Flashdance, Top Gun, and Beverly Hills Cop I & II became iconic films of the decade with Flashdance setting a bold, new, music video styled form of storytelling that would endure to this day and the other three becoming unfathomably massive blockbusters for previously untested megastars in waiting Tom Cruise and Eddie Murphy.
Then, the 90s happened. In 1990, Simpson and Bruckheimer essentially remade Top Gun with the same star in the world of NASCAR racing with Days of Thunder. Far less of a hit than was expected and seen as something that catered to what was then the niche market of stock car racing fans and not seen as a viable movie going demographic. Studios were growing increasingly wary of machismo blockbusters in the wake of Die Hard's vastly more egalitarian success and the risk averse early 90s found the kinds of action thrillers the duo produced being made with a lot less regularity. Also getting in the way of the duo's work was Simpson's profoundly legendary drug habit. At times unable to function and often prone to wild mood swings, no one really ever wanted to be around Simpson. Even Bruckheimer would eventually get fed up with his producing partner, ending their working relationship after completing The Rock in 1995. The film would be released in the summer of 1996 following Simpson's death by way of a drug induced heart attack.
But before we get too far off track, it's worth noting that between Days of Thunder and The Ref, Simpson and Bruckheimer didn't produce a single film, either together or separately. Simpson by his own admission to The New York Times in early 1994 said he mostly spent time doing drugs (something he admits to, but downplays) and sitting around eating unhealthy amounts of pizza. Bruckheimer in the same piece said that they had been unfairly pigeonholed as the kinds of guys who would only produce big budget action blockbusters. In a time when studios were tightening the purse strings, they weren't forgotten about, but they were never really approached for anything.
Attempts by the pair to come back and produce Beverly Hills Cop III failed, with salary negotiations and a somewhat rocky relationship with Paramount following Days of Thunder causing the deal to fall through. Then there was the matter of Bad Boys, a script that Simpson spent tinkering with a rewriting during his pizza and drug binges. Originally slated to star Dana Carvey and Jon Lovitz for Columbia Pictures, the deal fell through when the script wasn't deemed worthy enough, they couldn't find a suitable director willing to take the project, and the studio was wise enough to not bankroll what was then a big budget action film with Carvey in the lead. That one would, of course, get made just after The Ref with Michael Bay, Will Smith, and Martin Lawrence on a greatly reduced budget of $25 million (that Columbia was still deathly worried about given the untested nature of the film's stars on the big screen) and go on to become one of the biggest success stories of 1995. But that wouldn't have necessarily happened without the duo first being able to show that they could make a smaller film.
The script for The Ref caught Jerry Bruckheimer's eye and he brought it to Simpson who immediately responded to the script's bitingly sarcastic comedy of manners. Taking a risk and assuming most of the financial responsibility for the The Ref, Bruckheimer and Simpson took huge pay cuts to prove they could work small. Essentially at this point an independent film with studio backing, Simpson and Bruckheimer were able to talk LaGravenese into coming back on board and putting the script back into his own words after three years of inactivity and a great deal of studio tinkering in the interim.
Always keen to look for filmmakers who were hip to the streamlined, fast paced, and timely aesthetic that signified the Simpson/Bruckheimer brand, the search began for a star and director, with Leary and Demme coming on board at almost the same time.
Controversial stand-up comic Leary had recently made his leap into feature films and Demme was partially to thank for that. Aside from the constant allegations that Leary aped his stand-up act from fellow comic Bill Hicks, he was probably best known for a series of in-your-face promos for MTV that established Leary as a strange sort of generational icon. He was beloved by young people for "telling it like it is," but his act almost always revolved in some way about how screwed up things were in the past. He had successfully landed fans on both sides of one of the most coveted and marketable demographics at the time, and his Showtime stand-up special No Cure for Cancer (which Demme directed) would be spun off into a bestselling album.
In 1993, Leary (a native of Worcester, Massachusetts right next to my hometown) landed a string of supporting roles in films that would get his name out, but do little for his career. He would pop up most notably as a resistance leader in the Sylvester Stallone/Wesley Snipes sci-fi action film Demolition Man and as the villain in the thriller Judgment Night. He had small cameos in National Lampoon's spoof flick Loaded Weapon 1 and the family comedy The Sandlot, but neither of those added much of anything to his filmography, either.
It was actually another team up from 1993 between Leary and Demme that would cause Simpson and Bruckheimer to take notice. One of the guiding producers of the seminal MTV show Yo! MTV Raps, Demme (then only 30 years old and nephew of Silence of the Lambs director Jonathan Demme) was tapped to direct a big screen hip-hop comedy that starred two of the show's most beloved VJs. In Who's the Man?, MTV personalities Ed Lover and Doctor Dre (not that Dr. Dre) play a pair of bumbling Harlem barbers turned beat cops who stumble upon a real estate scam that led to the death of a friend of theirs. Made for the then still independent New Line Cinema and featuring an all star cast of hip-hop luminaries and Leary as the gruff police sergeant, the film was made on a shoestring budget but became a bit of a minor success.  Both men thought that together once again, they could make something worthwhile out of this kicked around project.
Production for The Ref began in the fall of 1993 in Toronto and Niagara-on-the-Lake to keep costs down instead of actually shooting in Connecticut. There isn't really a heck of a lot that I was able to dig up about the actual production of the film. From all I can tell from the final results, things seemed to go fairly well. That is until the film was test screened later in the year.
Disney wasn't entirely convinced in the film's humour, which was generally seen as being too fast paced for older people and too adult oriented for kids to really gravitate towards. The test screening numbers indicated as such, but even more distressing to the studio was the reportedly disastrous ending to the film where Leary's career criminal is arrested and taken away. It was an ending that Demme, LaGravenese, and Leary all had a great deal of faith in, but that audiences hated. A happier ending was reshot a little more than a month before the movie was released. It was a change that Demme forever regretted about the film. It also changed Disney's thoughts on the film, deciding to release it in the spring on only 793 screens at the height of its run. They had no faith in Leary or the film to really do any business, so they marketed it to the youngest crowd possible (which Leary publically lamented later in 1994 as the completely wrong idea). Still considering its opening weekend did better than most films on over 1,500 North American screens (with a per screen average that weekend second only to Guarding Tess), it's impossible to say the film was a dud.
All things considered, a happy ending doesn't hurt the film in the slightest. It's razor sharp wit and rapid fire bickering is akin to stumbling onto an unpublished Virginia Woolf play while an Aaron Sorkin-like antihero presides over the festivities like a devilish soothsayer spelling out doom for an entire family. Leary is matched beautifully by Davis (who has been underrated her entire career) and Spacey (in one of his best performances). It's a lump of holiday coal thrown on the holiday fire that can warm the heart of every cynic who seems the holidays as a potentially joyous time spent with far too many unpleasant people.
Leary would sadly never get a starring role in a film this good ever again. It seems like this was too much of a make or break project for him, and with the notable exceptions of the romantic comedy Two If By Sea (with his Demolition Man co-star Sandra Bullock and which Leary co-wrote) and an indie film team up with Demme on the unjustly slept on Monument Ave. (which, seriously, is the best film both of them have ever been involved in), Leary was largely relegated once again to supporting roles on film. The TV series Rescue Me shot Leary back into prominence and his stand-up albums, specials, shows, and books would continue to be best sellers, but big screen stardom remained out of reach pretty much because no one actually saw The Ref when it was in theatres.
Demme would do a little bit better, but sadly not by much. He would die eight years after The Ref was made at the age of only 38 from a heartattack during a pick-up basketball game. Aside from some TV work and another Leary stand-up special, the only other films he would make were the thoughtful indie comedy Beautiful Girls, the previously mentioned Monument Ave., the Eddie Murphy/Martin Lawrence dramedy Life, and the Johnny Depp starring cocaine smuggling biopic Blow in 2001, which was produced by Leary. The sad irony of it all is that cocaine might have been what caused Demme's heartattack in the first place, as the drug was found in his blood stream during his autopsy.
Demme's last film, a TV documentary about filmmaking in the 1970s titled A Decade Under the Influence would be completed posthumously by LaGravenese in 2003. LaGravenese, however, would have the most interesting career of the three of them, writing Alfonso Cuaron's adaptation of A Little Princess, the Barbara Streisand vanity project The Mirror Has Two Faces, Robert Redford's The Horse Whisperer, the Narnia sequel Voyage of the Dawn Treader, and just last year was the writer and director of the big budget dud Beautiful Creatures AND the highly lauded Steven Soderbergh directed Libarace biopic Behind the Candelabra. And I still think The Ref is his best work.
Should we be celebrating it?: I think I already answered that question. The Ref was one of only a very small handful of great comedies from the early 90s before the Frat Pack started to come in, and I don't suggest that any of you go back and look at how small that handful truly was. It came out during a time when studios were trying way too hard to seem hip and relevant and marketed a film that was just simply funny on its own terms as something it wasn't. Barely available on DVD still and not at all available on Blu-Ray, it's a movie that needs to immediately be claimed as a holiday classic by its supporters more than it already has been.
Next week: No one just ends up at Fort Spencer…
Advertisement
---
---
Advertisement
---
FROM AROUND THE WEB
Advertisement