A simplistic description of Booksmart, the feature directorial debut of actress Olivia Wilde, would be "a female Superbad." To do so, however, would reveal a lack of familiarity with all of the tropes of teen films from Dazed and Confused to Can't Hardly Wait and simultaneously diminish Booksmart to a simple gender flip take on a decent, but inferior film.
Booksmart stars Kaitlyn Dever and Beanie Feldstein as besties Amy and Molly, a pair of likeable, albeit socially isolated, high school girls on the cusp of graduation. The girls have the kind of friendship that transcends all other relationships: they're inseparable, they constantly prop each other up with accolades and positivity and they are also staunch feminists (there are jokes about Ruth Bader Gainsbourg, Rosa Parks, the Obamas abound). Most importantly, though, they are future-focused on getting into a good college.
The latter quality winds up being the film's inciting incident when Molly learns, to her dismay, that their conscious decision to forgo partying has made them not only the butt of jokes, but proven to be a false assumption. It turns out that jocks, stoners and supposedly dumb girls alike have managed to both party and get into respectable schools. This fact spurns Molly and Amy into action as they embark on an all-night odyssey to rectify their lack of experience and wrap up high school with one great party before graduation.
The result, of course, involves multiple detours, unexpected encounters with larger than life personalities, wrong partners, and life lessons learned along the way. Few, if any, of the narrative developments that screenwriters Susanna Fogel, Emily Halpern, Sarah Haskins, and Katie Silberman draft will come as a surprise, but that hardly matters. Booksmart's tropey plot familiarity is offset by Amy and Molly, a pair of multifaceted characters that are typically portrayed as caricatures in teen films. These girls, in contrast, are smart, articulate, awkward and silly; they're also profane, horny and exceedingly relatable. Booksmart soars in no small part because it never makes its protagonists the butt of the joke. The jokes are all about how the girls navigate the increasingly ridiculous events they encounter.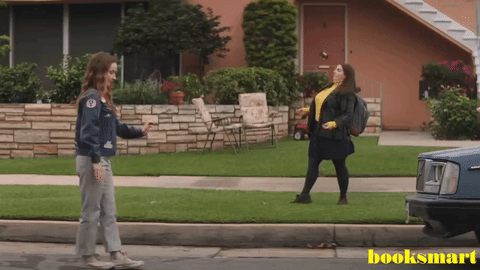 Wilde – no stranger to teen properties herself – proves to be an exceedingly comfortable director and Booksmart has an admirable sense of style and pacing. In one gorgeous sequence, Amy is coaxed into the pool by her crush Ryan (Victoria Ruesga) and the camera follows her through two underwater swims past the half-naked bodies of other partygoers. The first pass is wondrous and excited – the scene is filled with possibility as Amy seeks out her romantic interest. In the second swim, after her hopes have been dashed by an unexpected revelation, the camera work is more disjointed and frantic, mirroring Amy's need to escape from both the pool and the situation.
The single greatest thing about Booksmart is how unabashedly feminist and inclusive it is. The film is populated by female, POC and queer characters, but the inclusive and diverse representation is never commented on or made a big deal of; it is simply the reality of the world. There is also a noticeable lack of fat or geek-shaming, which is refreshing considering the two leads are a lesbian and a plus-size-for-Hollywood (aka regular) girl, respectively.
In an early scene, Molly is trapped in a bathroom stall and forced to listen to what her classmates think of her. In other teen films, the discussion likely would have centered around her physical appearance. In Booksmart, the jabs at Molly's expense focus on her single-minded scholastic determination and how unrelatable that makes her.
Even supporting characters such as slut-shamed Triple A (Molly Gordon), space cadet Gigi (a scene stealing Billie Lourd, channeling her Scream Queens character) and gay theatre boys George (Noah Galvin) and Alan (Austin Crute) manage to skirt caricature status, despite their limited screen time. The adults, including Will Forte and Lisa Kudrow as Amy's parents and Jason Sudeikis and Jessica Williams as teachers, all do well in small, albeit non-essential, roles.
At the end of the day, however, the film belongs to Dever and Feldstein, both of whom are fantastic. Feldstein tends to get more of the broad comedy (her facial expressions alone are worth the price of admission) while Dever, as the quieter of the two, is tasked with the majority of the emotional heavy-lifting. Unsurprisingly it's easy to fall in love with both girls, and the film's refusal to stoop to simplistic moral messages in favour of celebrating the bonds of (female) friendship is refreshing and genuinely applause-worthy.
The fact that the film is so f*cking funny is just the cherry on top.
Advertisement
---
---
Advertisement
---
FROM AROUND THE WEB
Advertisement