I played the hell out of Duke Nukem and Duke Nukem II as a kid.
I'm not quite sure how the shareware versions of these two sidescrolling sci-fi platformers from Apogee even got on my computer, but I nevertheless spent a lot of time blasting baddies and saving the world as Duke before graduating to early first person shooters like Wolfenstein 3D and Blake Stone: Aliens of Gold.
We had the internet in those days, but I never used it to find out about upcoming games. In the early 90s, I'd usually discover a game had been released by going to the store and seeing it on the shelf. That's how I found out about the existnece of Duke Nukem 3D, a first person shooter sequel to those earlier 2D platformers I'd loved so much.
I was 11, maybe 12. Being a huge nerd  in middle school, I would stop off at the local computer store, Two Bad Cats, every day on my walk home from class. I'd spend far too long admiring all the PC games they had, imagining what each one was like based on the cover art and the tiny screenshots printed on the back of each box. That's where I first saw Duke 3D. I knew I had to buy it. Between my allowance and briefly doing a friend's paper route, I'd saved up enough money to do just that. but there was one catch: the owner of the store wouldn't let me buy the game.
This was before the ESRB rated most PC games, but Duke Nukem 3D did come with a mature content advisory that rated the levels of violence, language, and nudity in the game. Because of that advisory the store owner said I'd have to come back with one of my parents if I wanted to purchase it. So I did just that. Later that evening I convinced my dad that I just had to have this game, so he accompanied me back to the store. This did take some convincing. My parents had taken me aside a few years before and asked me to "never play Wolfenstein 3D". Of course, I'd played id Software's WWII shooter before that and had secretly been playing DOOM on the family computer for a few years by that point, so I agreed: I wouldn't play Wolf 3D… I had a much better and more violent video games to play!
Now, I should also say that I lived in a pretty strict household as far as exposure to nudity in movies was concerned. My parents would kick my brother and me out of the room if the family was watching a movie that had breasts or a sex scene in it. It likely wasn't the healthiest attitude, but it probably avoided some awkward conversations. Still, my brother and I definitely knew why we were being asked to go out of the room, so it was basically the equivalent of bleeping a swear word. We filled in the blanks.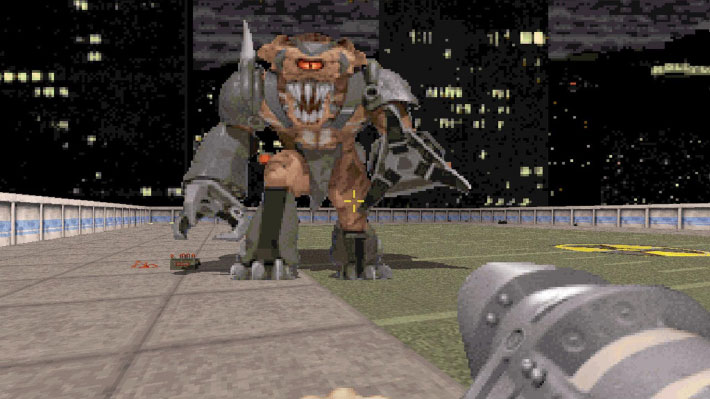 But back to Duke. Once we arrived at the store, the owner told my dad about the game's mature rating and pointed out the topless dancers plastered all over the back cover. I knew the violent aspects would be okay, but I thought the nudity was going to be a deal breaker. Sensing that I would not take no for an answer – especially when I was the one paying for the game – the store owner helpfully pointed out to my father that there was a way to turn the game's mature elements off and password protect it. Convinced, my old man bought Duke Nukem 3D for me with the money I'd saved.
We went home and installed the game. My dad activated the mature content filter, password protected it, and watched as I played the first level – Hollywood Holocaust – satisfied that he'd fulfilled his parental obligation. Of course, after he left the room I was able to instantly circumvent the mature content filter – the price of my parents having introduced me to computing at the age of three – and I went on to enjoy all the pixelated nudity and gore I could handle.
I was enthralled by Duke Nukem 3D. The real world levels, the crazy weapons (the game had a shrink ray!), and the creative power-ups (a jetpack!), it was unlike any other first person shooter out at the time. And yes, it had strippers, which to a 12-year-old boy was mind-blowing, even if it was sending some pretty problematic messages into my young male psyche. I even went as Duke Nukem for Halloween the following year. Like I said, I was huge nerd.
But Duke 3D was more than just big boobs and big guns. Sure, the story was juvenile as heck (save the babes from aliens) and Duke's one-liners were all completely ripped off from John Carpenter movies – the natural result of a generation of game designers raised on 80s action cinema. But despite all that Duke Nukem 3D was a really, really well made, well thought out game, made by some brilliant designers. Now I'm certainly not wistful for an era where the casual misogyny of the game can get a pass, but it was sad to see how every subsequent game in the franchise just shit all over Duke 3D's design legacy with stripper poles and bikinis. It has rightfully been overshadowed by games like Quake, a franchise which didn't deal in lowbrow humour and male chauvinism for laughs or mine the bottom or the barrel the way the Duke series has.
The biggest positive for me was that Duke Nukem 3D also came with a level editor, Build. It was an incredibly empowering tool for a young person in love with video games. I could make my own levels! I'd never been able to do that before. The game sparked a love for modding games, tinkering with code, and creating that I carry with me to this day. So despite my issues with the series I have to say a begrudging thanks to Duke… and Dad too.
Advertisement
---
---
Advertisement
---
FROM AROUND THE WEB
Advertisement