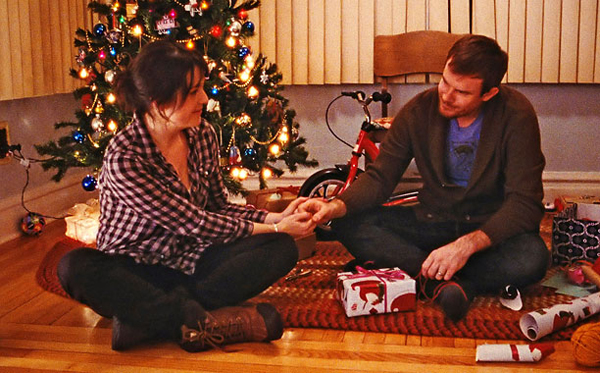 Happy Christmas (Joe Swanberg, 2014) – Prolific low budget writer/director Joe Swanberg comes straight to VOD (with a limited theatrical for our neighbors to the south) with Happy Christmas, a slight yet effective piece of mumble core that feels a lot more intimate then it has any business being on a passing glance.
Jeff and Kelly (Joe Swanberg and Melanie Lynskey) live an uneventful domestic life as they raise their young son.  That gets thrown for a loop as Jeff's irresponsible younger sister Jenny (Anna Kendrick) comes home after a rough breakup and shakes up their quiet existence.  On the positive side both Jenny and her friend Carson (Lena Dunham) inspire Kelly to get back into the working world. Jenny also gets into a questionable relationship with their babysitter/pot dealer Kevin (Mark Webber) that sends her emotionally spiraling by drinking too much and almost burning the house down.
One of those films that is about everything and about nothing all at the same time, Swanberg comes through with a realistic slice of life that's a welcome diversion from the rom-com scenarios and well staged dramatic moments that more mainstream indies would bog down in cliches. Happy Christmas has this warm inviting feeling, shot in a POV style that isn't trying hard to impress or alienate. Swanberg keeps it natural, with the mature, balanced, overlapping dialogue. It's a look at the evolution of people when they have kids and how they need to make sure to not lose their own sense of identity when they become a family unit.  There's an understated charm while still being funny. It's never mean spirited humor or forced comedy.  People laugh, cry and scream at one another just like family would and that's why it works.
Lynskey never quite gets enough credit for being as good as she is and too many of us have forgotten about her in films like Heavenly Creatures and remember her from Two and a Half Men.  She delivers a strong and appropriately stripped down performance that creates a complex character from basic elements, exactly what's needed.  Kendrick as her exact opposite plays well off of her.  Swanberg, Webber, and Dunham are all good enough, but the film belongs firmly to Kendrick and Lynskey.
Happy Christmas isn't terribly vital even in the context of Swanberg's career, but worth a look when curled up on the couch.
Happy Christmas is available On-Demand only from all major providers. (Dave Voigt)
Advertisement
---
---
Advertisement
---
FROM AROUND THE WEB
Advertisement