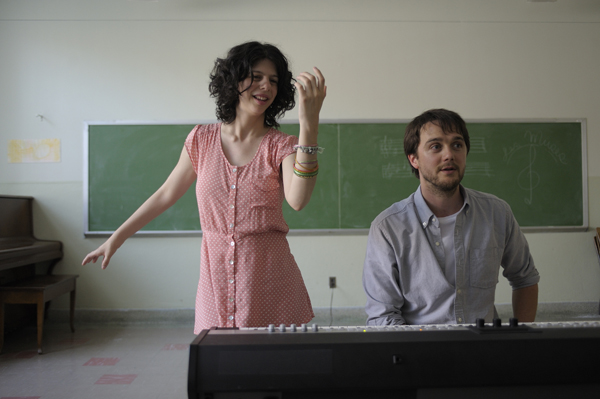 Louise Archambault has only made two feature films since the start of her career in the late 90s, but both have garnered considerable amounts of attention. 2005's drama Familia took home the prize for Best First Feature at the Toronto International Film Festival and was nominated for 8 Genie awards, netting Archambault the Claude Jutra Award for the best debut feature. Her second feature length production, Gabrielle (which opened this past Friday in Toronto and in Quebec this past fall), has been getting even more attention. It was Canada's selection for the Oscars (although it didn't make the final shortlist), was recently chosen as part of TIFF's Canada's Top Ten, has won an audience award at last year's Locarno Film Festival, and just yesterday was nominated for six Canadian Screen Awards (a.k.a. What We Call the Genies Now), including Best Picture.
In Archambault's latest film, Gabrielle (played by Best Leading Actress nominee Gabrielle Marion-Rivard, who like her on screen counterpart has Williams Syndrome) is facing increasing amounts of stress, love, and loss. Spending much of her time in a group home, she's an integral part of a choir that's gearing up for a major music festival to sing alongside Quebecois superstar Robert Charlebois. She loves her sister (Melissa Desormeaux-Poulin) very much, but soon Gabrielle's only family and support will be moving to India to be closer to her fiancée. Gabrielle also begins to have intense romantic and sexual feelings towards fellow singer Martin (Best Supporting Actor nominee Alexandre Landry) that will ultimately lead to his mother trying to put a stop to the burgeoning relationship. Fearing the future and potentially never seeing the man she loves ever again, Gabrielle makes strives to become more independent.
While in town for an appearance for the film's inclusion in Canada's Top Ten last week, Archambault sat down with us for tea in the TIFF Bell Lightbox green room to talk about avoiding misery and melodrama, her documentary-style approach to filmmaking, how coming of age stories can happen at any point in life, how her cast never felt pressured, and the relationship between her two leads.
Dork Shelf: One of the things that I really admire about Gabrielle is that I think it's a hard film to make with a great deal of sincerity and heart, which you bring to it quite nicely. I think when I watch a film where the main character have disabilities, it always gets played off as some kind of inspirational build up towards some sort of really clichéd ideal that rings false. Films like that can often become unwittingly exploitative, but your film contains a very unique and truthful look at dealing with disability and the struggle for independence, and about love and desire. For you as a filmmaker, what made you want to tell this kind of story and to avoid pandering, talking down to the characters and the audience, and to deal with these problems head on?
Louise Archambault: It's interesting the way you're seeing it. For sure, I wanted to tell the story and talk about those specific issues that you just brought up. It's a delicate subject, but I didn't want it to be the main thing or goal of the film. I wanted at some point for most anybody to be able to identify to the emotion and to the challenges that the characters have. And with the relationships between these characters and their families, I would hope that people can identify with that. You don't have to be mentally challenged to identify yourself in these characters, and really that's why the music in the film is there and why it's part of the story. It's like how you can relate to song without knowing the writer personally. It was about identifying a story that we could all identify.
With this subject and these characters, it was always my wish to make a film in collaboration with Gabrielle and the others, and not only impose myself on them. Who am I to make a film ON them? I'm not meaning to "study" them. It's not about that. I want to build the story and build those characters, but it's everybody's story.
One thing leads to another, eh? I got out into the field and I spend a lot of time with the person who would become the character Laurent, who really is a caretaker and I put a lot of his real life into the story, as well because I find him really inspiring. It was a documentary approach, but with a really written script.
I tried to find the fine line between documentary and fiction, but to never go into miserablism because I always though with this subject that was just too easy. We always have the tendency to go "Oh, it's so hard to live with and around this" or whatever. Maybe that could make for a great film, as well. I wouldn't say it wouldn't. And I also never wanted to go very sugary with only using actors and something fake and artificial. That's ultimately what Gabrielle was made up of.
DS: You also avoid descending into misery despite the fact that your character is about to experience two major forms of loss in her life: estrangement from her sister and the man she loves. That's a delicate area, and I think it's hard for a lot of filmmakers to avoid descending into melodrama when it comes to talking about estrangement. That's a very relatable feeling for anyone, but a hard one to qualify in a realistic dramatic portrayal. How do you approach these big, grand feelings within that documentary sort-of framework you were just talking about?
LA: It's very instinctive. There are points of grand emotion in the film, sure, but she never tries to kill herself or anything that would cause the audience to gasp. These characters aren't into any kind of deep trouble or anything. It's just life!
DS: The worst that really happens is that there are some arguments and at one point a small fire gets started.
LA: (laughs) Exactly! I kept in mind that the goal for the Gabrielle character was to be a girl that becomes a woman. This is really a coming of age story, you know? That's the thing. After that she has to deal with the issues that arise from that, like love and separation. That's the way you become an adult. That's the way you go further in life. We all find out independence and our autonomy in the same way.
DS: There's also this notion that coming of age could happen at any point in your life.
LA: Yes!
DS: Some people can make it to their 30s and 40s and still not really come of age. We tend to see that a lot more in comedies these days…
LA: Yes, something like Bridesmaids I think is a great example of that.
DS: To see that done and not be played for comedy is also harder, though, and to broach that topic with any degree of realism might be just as hard as poking fun at the concept.
LA: Right now I am adapting a novel called And the Birds Rained Down, and it takes place far off in the frontier of Ontario, and it deals with hermits. There are these three men and they are over 80 years old. One day, one of these men dies and at some point there's an almost 80 year old woman who was in an asylum for almost sixty years who has to go back there for a family reunion and she doesn't want to go back to that place. So her nephew feels for her and he goes along with her to be with these other guys in the woods, and it's really an homage to love and life and in the same way like we were talking about, you can experience life at any age, you know? You can be dormant for many years, but something can come along to change your life drastically at any age.
DS: You do a lot of research going into this, especially when you have a film that leads up to a very large scale event like the outdoor concert like yours does, what kind of pressure does that really put on your crew and yourself? It's a very personal movie, but one revolving and leading to an event with a lot of moving parts.
LA: They really don't feel that pressure and I never wanted them to feel it. I formed that choir. It doesn't really exist and I kind of picked them up here and there. And despite the fact that they all had their own challenges, they were all incredibly professional. Before we even filmed we had to have them all go into a professional studio and have them sing. The technicians were so impressed because you have people like Alexandre Landry who isn't a singer – he would only really practice for about three hours a day before we started shooting and had no other previous experience – and he was probably a little stressed out, but he did great. Gabrielle and everyone else, it didn't matter if it was recording or acting. To them it was all the same. They were all into it.
That show was something special, too. I had the bright idea to shoot at magic hour at this huge event and we only had three takes in total to get it right. (laughs) We all knew that if it didn't work, we were doomed. Everyone is on their toes, even Robert Charlebois who approached it as a real show, and the choir were so excited and happy that they just put it all out there. But they never felt that kind of "red button" pressure.
DS: There is a lot of bravery in the lead performances from Gabrielle and Alexandre and the romance that they have to convey. What was it like collaborating with them on the personal and sexual dynamic of their relationship? Again, it's something that never gets talked about, and I'm guessing a lot of that was also probably instinctual.
LA: Well, for the intimacy when it came to Gabrielle it certainly was. She definitely has that emotional intelligence. She's so authentic and in the moment that she can make anything she's doing feel real. But I did have to find some solutions. With Alexandre, I had to find a way to make him looser because he wanted so much to respect Gabrielle that it didn't feel as natural. It was like he was barely touching her. So I had to find a way to make them feel good. We did rehearse a lot before, and they had choir rehearsal together, so Alexandre got to know her really well through that and they became very comfortable through that.
And Alexandre just has a huge heart. It's one of the biggest reasons I chose him. Even now, I still travel a lot with him, and you can see it. He's never judging anyone. He's always so looking forward to meeting everyone. It doesn't matter if it's a president or someone living in the street. He's just always curious about others regardless of who they were, and that's what helped him a lot. He was always there for Gabrielle, and always in a really respectful way as an actor and as a friend. They kind of became like brother and sister at some point.
Advertisement
---
---
Advertisement
---
FROM AROUND THE WEB
Advertisement