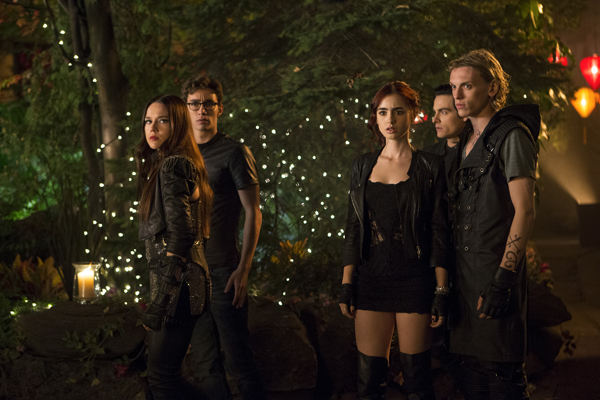 Based on the first book in one of the most beloved series of novels ever written – translated into 36 languages around the world and selling over 22 million copies – The Mortal Instruments: City of Bones is one of the most hotly anticipated fantasy epics and films of the year.
From the imagination of author Cassandra Clare and director Harold Zwart (The Karate Kid), comes the story of Clary Fray, a mild mannered Brooklyn teenager whose life is about to get equal parts dark and extraordinary. After the mysterious disappearance of her mother, she sets out on a search with her best friend Simon to uncover the truth. It leads her into the dark and supernatural Shadow World, a place where vampires, werewolves, demons, and various other creatures of the night one thought to be myths are very, very real. She finds help in a trio of Shadowhunters – part human, part angel – to locate a valuable chalice that could prove the key to getting her parents back.
With the film set to release on Wednesday, August 21st, lets take a look at the actors getting ready to step into some of the key and most adored roles in the film in addition to the all star cast that includes Lena Headey (Dredd, Game of Thrones), Kevin Durand (Fruitvale Station, Cosmopolis), Jonathan Rhys Meyers (Match Point, The Tudors) and Jared Harris (Mad Men, Sherlock Holmes: Game of Shadows).
These four lucky actors will also be making a special trip to Canada (alongside Harold Zwart) when the film has its red carpet premiere in Toronto (where some of the film was shot) on Thursday, August 15th.
Lily Collins – Clary Fray: Landing the coveted leading role of this summer blockbuster is Lily Collins, who has made a remarkable impact on the scene in such a short period of time. With key roles in Priest, Abduction, and Stuck in Love, Collins is probably best recognized as Snow White from last year's fairy tale retelling Mirror, Mirror.
Robert Sheehan – Simon Lewis: Irish actor Robert Sheehan steps into the shoes of geeky gamer and best friend Simon Lewis. Appearing on numerous television shows, including Me and Mrs. Jones, Love/Hate, and Misfits, Sheehan has also appeared alongside Nicolas Cage in Season of the Witch and in James Marsh's critically acclaimed Red Riding trilogy.
Jamie Campbell Bower – Jace Wyland: As one of the Shadowhunters with a strong attraction to Lily, British actor Jamie Campbell Bower takes over the fan favourite role of Jace Wyland. In addition to playing Caius in the equally hyped Twilight franchise, Bower might be best known as the young, singing Anthony in Tim Burton's Sweeny Todd: The Demon Barber or Fleet Street or playing none other than King Arthur himself in miniseries Camelot.
Kevin Zegers – Alec Lightwood: Ontario native Kevin Zegers plays the emotionally complex role of Shadowhunter Alec Lightwood. Appearing earlier this year in the Canadian made post-apocalyptic thriller The Colony, Zegers has also had high profile roles in cult horror classics Wrong Turn, Frozen, and Man of Steel director Zack Snyder's remake of Dawn of the Dead.
Stay tuned to Dork Shelf in the next few days. There might be a quiz on all of this.
Advertisement
---
---
Advertisement
---
FROM AROUND THE WEB
Advertisement