Walt Disney Pictures
The first full trailer for Disney's highly anticipated Frozen 2 has finally arrived!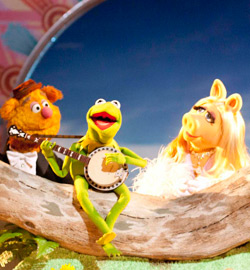 While it's as funny as one would hope a Muppet film would be, the rebooting of this finely-felted gang of friends does have a few fairly big problems. Structurally the film is a bit wonky and the script feels like the result of many different people having a lot of different feelings about the tone of the film. To call a film like The Muppets out on such seemingly trivial issues might sound like the groaning of Statler and Waldorf, but despite any such complaints The Muppets are undoubtedly back at the top of their game comedically.
A couple of weeks ago Walt Disney Studios, Touchstone Pictures, and Dreamworks had the Canadian premiere of their latest film Real Steel at the Scotiabank Theatre in Toronto. The event was attended by Canadian actors Kevin Durand (from Thunder Bay) and Dakota Goyo (from Newmarket) and the film's Canadian director Shawn Levy (from Montreal). It was also attended by a guy best known for playing a really pissed off Canadian (despite being Australian): Hugh Jackman.