It's that time of year once again, and while it's far from time for us to pack up the Dork Shelf offices just yet for the holidays (that happens on Christmas Eve, and we'll be back on the 27th, so don't think you've heard the last from us), it's time for our Film and Arts Editor to count down the 25 best films of 2013.
Criteria to make the list:
-The film had to have at least a full one week run in Toronto.
-Films that are eligible for the upcoming Academy Awards that aren't opening in Canada until after the New Year are also eligible.
– Films that only played as part of a screening series or a festival in 2013 are not eligible. Conversely, films that played festivals that have formal release dates in 2014 and are not up for Oscar consideration this year are also ineligible, but will be eligible next year. (There will be a separate list of films that were 2013 releases that were only screened once or twice or possibly not at all in Canada coming at a later time.)
Honourable Mentions (in no particular order): Nebraska, The Last Stand, The Wind Rises, Short Term 12, The Dirties, Vic + Flo Saw a Bear, Dallas Buyers Club, 42, Drug War, Fast & Furious 6, Watermark, Let the Fire Burn, All is Lost, The Crash Reel
25. Frozen
Blending classic Disney musical magic with a surprisingly new school message of sisterhood, Frozen was one of the more delightful and fun bits of mainstream entertainment this year.
24. To the Wonder
While still his weakest film overall, Terence Mallick's gorgeously made and subdued meditation on falling in and out of love proves that the man can make something emotionally resonant essentially out of spare parts.
23. Captain Phillips
A bit meatier than most siege dramas, Paul Greengrass' look at a cargo ship under threat from pirates is a series of intriguing escalations and negotiations. While getting most of its buzz from the great work put in by Tom Hanks, there's a lot to be said for Billy Ray's screenplay.
22. Blackfish
Put together like a well oiled thriller, this look at the darker side of Sea World was one of two documentaries this year that actually affected some degree of social change in the world. The other will appear even higher on this list.
21. Blue Jasmine
Anchored predominantly by an exceptional performance from Cate Blanchett as an alcoholic widow learning to adjust to her new pauper lifestyle, Blue Jasmine turned out to be the most thematically interesting Woody Allen film in quite some time.
20. August: Osage County
Thanks to the work of misanthropic playwright extraordinaire Tracy Letts and a game cast, John Wells' dysfunctional family drama revels in Southern sleaze to offer great performances, uncomfortable laughs, and a surprising amount of entertainment value. It's just a shame William Friedkin didn't get a chance to direct this one after his success with Letts' Bug and Killer Joe. (Opens in Toronto on Jaunuary 10th)
19. In a World
Lake Bell's enchanting, thoughtful, and realistic comedy about one woman's struggles to make it as a voiceover actor is an assured debut feature and one of the funniest films of the year.
18. Pain and Gain
Michael Bay delivers his best film to date with this coal black comedy that allows Mark Wahlberg and Dwayne Johnson the chance to deliver the best and most off the wall performances of their careers.
17. Before Midnight
Anchored by the still excellent rapport between stars Ethan Hawke and Julie Delpy and director Richard Linklater, this romantic trilogy comes to its logical conclusion with a finely nuanced look at the difficulties of long term relationships.
16. Gravity
The best directed movie of the year, it's unlikely that audiences will ever see another film like Alfonso Cuaron's minimalist outer space thriller ever again. It's a piece of pop culture entertainment so good that it will only serve to inspire imitators until the next great blockbuster comes along.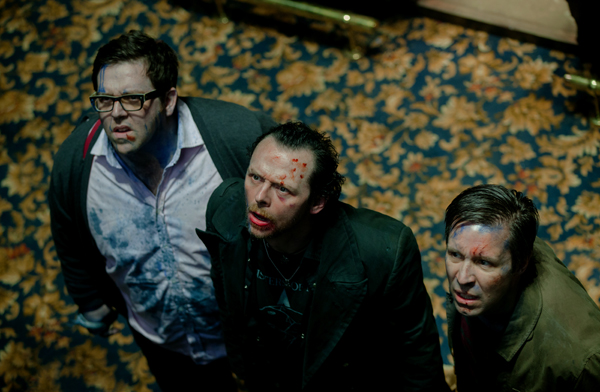 15. The World's End
Another ending to a somewhat romantic trilogy that's designed to show strain on close friendships, Edgar Wright's final outing (for now) with Simon Pegg (in his best performance) and Nick Frost isn't just laugh-out-loud funny, but also talks about alcoholism and mental health issues in a science fiction story with a remarkable amount of poignancy.
14. Side Effects
Steven Soderbergh's theatrical swan song (once again, for now) might seem like a lurid De Palma-esque thriller on the surface, but it's so much more than that. It's a subtle, career encompassing work that starts where his career ended up (thorough examinations of social systems) and ends where his career began (intimate looks into personal relationships under considerable strain).
13. The Spectacular Now
James Ponsoldt's teen romance isn't just heartbreakingly realistic, but is also bold enough to be told through the eyes of a main character (played wonderfully by Miles Teller) that isn't all that particularly likeable. It's more about growing up than it is about young love, and it looks at how the two intersect without pulling any punches.
12. The Broken Circle Breakdown
On the final Oscar shortlist for Best Foreign Film this year (and quite rightfully so) is this touching and more than a little depressing bluegrass musical drama from Belgium about a married musician and a tattoo artist struggling to cope with the illness of their daughter and the dissolution of their love for one another. Simply heartbreaking and a better film on the subject than the similarly themed Blue Valentine.
11. Neighboring Sounds
Recently bumped from contention for Best Foreign Film at this year's Oscars was Brazil's entry from film critic Kleber Mendonça Filho, a sprawling look at one tenement community where the rich and poor overlap and an outside security firm is about to change their lives and relationships potentially for the worse. It's a multiple arc story that could take place anywhere, and it's deftly directed by Filho.
10. The Oxbow Cure
If there was one film that I wish got more exposure on this list, it's this wholly original and almost wordless Canadian psychological drama from Calvin Thomas and Yonah Lewis about one woman's attempts to isolate herself in a wintry cabin as an unseen presence makes its way closer to her.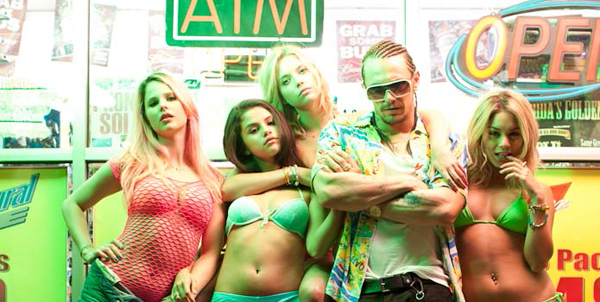 9. Spring Breakers
Harmony Korine's balls out look at the dark side of the American dream takes cartoonish characters, but takes them very seriously. Far more than simple, seedy entertainment and bolstered by one of the year's best supporting performances from James Franco (who if you think about it had one HELL of a year), Korine skewers pop culture ideals.
8. Frances Ha
Noah Baumbach and actress/writer Greta Gerwig team up for this coming of age comedy where the person who needs to learn how to be a grown up is already past their mid-20s. Deeply observant, realistically witty, and much like other films on this list never letting the protagonist off the hook for being a jerk, Baumbauch delivers his best film since The Squid and the Whale and Gerwig her best performance.
7. A Touch of Sin
Jia Zhangke genre mash-up anthology looking at the exploitation of the working class in China isn't only a grand piece of entertainment comprised of four well rounded stories. It's also one of the most politically charged films of the year; a grand act of subversion funded with state money to essentially tell the state to go fuck itself. Vitally important filmmaking.
6. The Act of Killing
Just as important in cultural impact as Zhangke's film is Joshua Oppenheimer's harrowing documentary looking at death squad leaders in Indonesia. By surrounding himself with unquestionably dangerous and remarkably unrepentant war criminals and asking them to restage their greatest atrocities as if they were lavish Hollywood productions, it's an undiluted look into the face of pure evil.
5. Museum Hours
Jem Cohen's charming look at a friendship between a security guard at Vienna's Kunsthistorisches Art Museum and a foreign traveller in town for family matters looks at the human relationship to art without being pretentious. It's very simple, sweet, and does a better (and funnier) job of explaining why art matters than any film in recent memory.
4. Inside Llewyn Davis
The Coen Brothers once again tell the story of an obstinate man who becomes his own worst enemy, but this time within the historically rich and musically charged backdrop of 1961's Greenwich Village folk singer scene. It's a sharply crafted episodic work where the brothers get one of their best leading performances from the often undervalued, but soon to become huge Oscar Isaac.
3. The Wolf of Wall Street
More on this one on Christmas Eve when our review embargo lifts (a different one than was given to writers in the States who can already openly talk about it), but if Scorsese's latest is this high on the list, you can already guess my opinion of it. (Opens everywhere on Christmas Day)
2. 12 Years a Slave
Steve McQueen's look at real life figure and free man Solomon Northup's tragic kidnapping and forced indentured servitude is probably the closest any film will ever get to looking at the atrocities of slavery in a serious, unflinching manner. It will be looked at over time as a major landmark achievement.
1. Her
Spike Jonze's topical and deeply emotional modern romance between a man and his computer isn't just one of the best films of the year, but quite unlikely, also one of the best love stories ever written: a high concept that's satirical, but without a hint of irony and a lot of smart things to say about alienation and the lack of human interaction in our current wired world. (Now playing in Toronto, January 10th everywhere else)
Advertisement
---
---
Advertisement
---
FROM AROUND THE WEB
Advertisement