The dawning of a new week and the almost the halfway point of the 2012 Toronto International Film Festival brings about a seventh batch of reviews from the frontlines. Don't forget to check out the other reviews in our other six entries and our look at the Short Cuts Canada programme, and for more information be sure to check out tiff.net.
Cloud Atlas
Special Presentation
Directors: Lana Wachowski, Tom Tykwer, Andy Wachowski
David Mitchell's Cloud Atlas is one of those "unfilmable" novels that some insane filmmaker would inevitably tackle and it ended up taking no less than three directors to do it (The Wachowski siblings and Tom Tykwer). Mitchell's six separate narratives spanning from the 19th century to hundreds of years in the future remain. However, the filmmakers' attempt to translate it all to the screen relies on intertwining the tales through editing and casting only a handful of actors in every major role to underline/expand the new agey themes of reincarnation, fate, and repetition. Cloud Atlas is such an obscenely ambitious feature that it's remarkable it was even financed by a major studio and it would be nice to say the result is a sprawling success.
Yep, that would be nice, but just not possible. There are individual moments when the stories intercut as they crescendo that are remarkable and fulfill the three-headed filmmakers' wild ambitions. Unfortunately, there's also too much going on here for a single movie (even at three hours) and the themes are a bit twee for a project so huge and unrelenting. The stunt casting also comes off as a mistake with the likes of Tom Hanks, Halle Berry, and Hugo Weaving all strong in at least a few roles, while totally lost in others (and some make-up assisted cross-racial casting verges into bad taste). Thankfully, the movie isn't a complete Southland Tales-style disaster. What everyone involved had in mind is evident and while much of it doesn't work, the attempt and successful sequences are worth a look. A curious mess at least worth seeing to confirm that it actually exists. (Phil Brown)
Screens
Saturday, September 15, 11:00am, Elgin (Visa Screening Room)
Quartet
Special Presentation
Director: Dustin Hoffman
Hard as it may be to believe, Quartet marks Dustin Hoffman's first foray into directing and it's a crowd pleasing and thoroughly humorous film to start off a potentially new chapter of his career with.
Hoffman follows the exploits of three retired opera singers and best friends (Billy Connolly, Tom Courtenay, and Pauline Collins) living in a home for former musicians that's attempting to mount a fund raising campaign to keep the doors open. Their world is rocked, however, when a well known diva and ex-wife of one of the friends (Maggie Smith) comes to stay and they're all pressured into reuniting to remount their most famous work for the big gala presentation.
Ronald Harwood's screenplay plays to Hoffman's strengths as a comedian, and the actor has a great visual eye and sense of pacing, but that cast has to be the main attraction here. The relationship between Courtenay and Smith feels natural and unforced, Collins gains sympathy as the member slowly fading away into dementia, and Connolly drives the film like he stole it in a hilariously smart assed performance of Bill Murray proportions as a recovering stroke victim that speaks his mind no matter how uncouth it sounds. Connolly's scenes of needling the uptight gala artistic director (Michael Gambon, in a welcome small role) are some of the funniest in any film this year. It's light, fun, and nowhere near as stuffy as it sounds on the surface.
Screens
Monday, September 10th, 12:30pm, Winter Garden Theatre
The Impossible
Special Presentation
Director: J.A. Bayona
Five years after scaring the crap out of international audiences with The Orphanage, director J.A. Bayona returns. There are no supernatural shenanigans this time, but the man does still employ more than a little shock and awe. It's a tsunami disaster flick based on the 2004 boxing day killer waves that wiped out over 230,000 people in Thailand. Opening with one of those ominous "based on a true story" title cards, Bayona follows an actual family (led by Ewen McGregor and Naomi Watts as the parental units) who were on an idyllic Christmas vacation that didn't quite goes as planned. After the usual happy family set up, the waves hit and the effects are absolutely incredible. Using a combination of CGI, water tanks, immersive sound design, and god knows what else, the director stages easily one of the most impressive natural disaster sequences ever caught on camera.
After that, things get a little shaky. The family is split up and struggles to reunite unsure of who actually survived. It's all predictably physically torturous and emotionally blindsiding, but unfortunately "predictably" is the key word. As happens all too often in films based on "true stories," clichés are relied upon and written off because they happened. Much of the second half of the film can be guessed while standing in line at the theater, but the astounding tsunami sequence and the pained performances by McGregor, Watts, and some talented kids are worth the price of admission. Slavish narrative conventions are just part of the disaster genre and sadly even a talent like Bayona can't overcome that. (Phil Brown)
Screens
Monday September 10, 3:00pm, Princess of Wales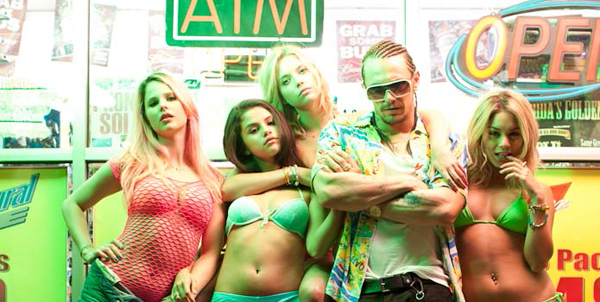 Spring Breakers
Special Presentation
Director: Harmony Korine
An audience of squeamish tweens gag as Disney/Nickelodeon by-products Vanessa Hudgens and Ashley Benson force a ghettotrash James Franco to perform fellatio on the glocks they hold like dicks in their hands. That's on top of a mountain of sex, drugs and absurdity. The blindsided reaction from the Teen Beat crowd has made seeing the Gummo creator's newest, Spring Breakers, worth it, and yeah the film itself is pretty endearing too.
Faith (Selena Gomez) is having second thoughts about her three lifelong friends, (Benson, Hudgens, Rachel Korine) who have always been drunk and maniacal but hit a new low after robbing a diner for spring break money. It all seems worth it: a mecca of blitzed American college kids, but Faith's mood turns sour after getting arrested. Bailed out by rapper and drug lord, Alien (Franco riffing on Riff Raff), Faith's friends slowly transform into violent leverage over Alien's street rival, I shit you not, Gucci Mane.
The casting suggests a more mainstream effort from Korine, at least during the first act. A door prize of drunk, naked sunshine teens paired with a wall of dubstep, followed by bland independent film poetics about the rite of passage that is spring break. That all changes immediately when Franco joins the convoy, and the whirlpool of crass imagery and a surreal performance from Franco, which cannot help but steal the show, usher the audience into the subversive theatrics that have made Korine so infamous. It's not Harmony's most shocking, Harmony fans, but sleep easy knowing it will be for all the anklebiters lined up to see it. (Zack Kotzer)
Screens
Friday, September 14th, 9pm, Bloor Hot Docs Cinema
Everyday
Masters
Director: Michael Winterbottom
Over five years in the making and worth every second of time spent, the prolific Michael Winterbottom (who made five films, a short, and a whole TV series while making this one) heartbreakingly shows the strains placed on a family dragged through the criminal justice system in the UK in quite possibly the rawest (and admittedly saddest) film of his career.
Winterbottom charts the relationship of a mother of three (Shirley Henderson) and her imprisoned husband (John Simm, busted for drug smuggling) across five years in agonisingly real time and with a handheld and gritty verite style that only brings the pain felt by these people that much closer to home. Things don't fall apart immediately and it's not always bad news, but the pain on their faces and the difficulties facing their children (played mostly by non-actors) are constantly mounting. Henderson brings some really nuanced craft to a character forced to put on different airs depending on who's around her at any given moment and the exhaustion that such a dilemma brings. Simm has his work cut out for him since the film comes largely from the wife's perspective, but not knowing everything that happens to him on the inside makes us feel for the plight of his family that much more.
What makes Winterbottom such a fascinating filmmaker aside from his ability to keep churning out product is his desire to never make the same film twice, and this film finds him further outside of his comfort zone than usual. While the comedies like The Trip might have prepared him for faux-documentary and he's no stranger to dark subject matter, his unflinching look at the human heart under enormous strain just might be his best overall effort yet.
Screens
Monday, September 10th, 3:00pm, Cineplex Yonge and Dundas 7
Sunday, September 16th, 12:30pm, TIFF Bell Lightbox 2
Writers
Special Presentation
Director: Josh Boone
In Writers, Greg Kinnear plays a successful novelist and divorced father of two. His kids, played by Lily Collins and Nat Wolff, are also writers, with Collins' character in university with a novel about to be published. Jennifer Connelly plays the ex-wife who Kinnear is sure will come back to him. The film tracks a year in the life of these three characters as they navigate love, heartbreak and loss.
Writers is Josh Boone's debut feature, both as a writer and director, and it displays a fairly typical problem with many debuts. The film doesn't take any chances. It plays everything simple and straightforward, going to all the places you'd expect this sort of family drama to go, and in some cases with all cloying dialogue you'd fear. It's not a bad film, though. The near-deification of "writing" is a bit much, but the actual family drama and the various characters' stories do carry some weight. The film is aided in no small part by its cast, who often make fairly rote scenes feel spry and natural. Writers is the kind of film likely to infuriate a lot of critics, but really it's just a harmless drama about a dysfunctional family played by actors who are always fun to watch. (Corey Atad)
Screens
Monday, September 10th, 3:00pm, Ryerson Theatre
In the House
Special Presentation
Director: François Ozon
Writer-director François Ozon comes to TIFF with the artfully mind-bending In the House. Germain (Fabrice Luchini) teaches a high-school French class, but focuses on helping one of his young students, Claude (Ernst Umhauer), develop his talent for writing. Claude's writing, though, isn't fiction. Instead, he bases his work on his experiences at a friend's house where he becomes close—maybe too close—to the picture-perfect family of three. As Claude's writing style evolves, and as his manipulative means of creating a story in real life take hold, In the House begins to fracture in the best possible way. It becomes an amazingly compelling game of fact vs. fiction, where any sense of reality is constantly being subverted, challenged and outright upended.
Ozon's script is deftly effective, changing perspective and style on a whim, and becoming increasingly meta as it goes. His direction is cold but pointed, allowing the character and plot dynamics to do most of the talking, as well adding more raw power to the film's clever twists on realism and truth. In the House is an assured piece of work, and one that'll surely leave the audience pleasantly scratching their heads long after the credits roll. (Corey Atad)
Screens
Monday, September 10th, 9:00pm, Visa Screening Room (Elgin)
Wednesday, September 12th, 3:45pm, TIFF Bell Lightbox 1
iLL Manors
Vanguard
Director: Ben Drew
Aiming high in scope and falling short in execution, the ambitious debut feature from UK rapper Plan B, a.k.a. Ben Drew, looks at the drug game in London's Forest Gate neighbourhood from multiple viewpoints from dealers to hustlers to abused women caught in the middle, but despite a lengthy running time, the film never gels and Drew's repetitive tough chav dialogue takes centre stage over plotting and in some cases characterization.
Mostly following one low level pusher (a great Riz Ahmed) across two separate plotlines with different MacGuffins – a lost cell phone in the first half, an abandoned baby in the second – Drew attempts to craft a sprawling and human crime saga with numerous side quests branching from the A-stories, but not all of it adds up with some threads maddeningly unresolved and others brushed off.  The dialogue also feels forced rather than appropriately natural and sometimes the misery of the endeavor threatens to become overpowering.
What does work well are character backstories told through hip-hop montages that are better written and delivered than a lot of the dialogue. If the movie had just been a full on musical instead of some hybrid between Juice and Crash, this might have worked out better, but with good knowledge of pacing and a keen eye for visuals, Drew still remains a filmmaking talent to keep an eye on since most of the problems here befall most first time filmmakers anyway.
Screens
Tuesday, September 11th, 4:15pm, Scotiabank 4
Saturday, September 15th, 9:30pm, Scotiabank 4
Advertisement
---
---
Advertisement
---
FROM AROUND THE WEB
Advertisement