For the 12th time, a jury overseen by the Toronto International Film Festival have selected what they believe to be the ten best feature and short films produced in the Great White North over the past year, and while this year's selections are largely more sanitized, safe, and mainstream than past years, there's no shortage of good selections, and this year's picks are fairly on the ball. The winning films will be screened this January 4th through the 13th at the TIFF Bell Lightbox, often with special guests on hand to talk about their work, but lets take a look at this years selections in advance of that and break it down a bit further (and more or less in handy alphabetical order):
The Shorts
Programme A (Sunday, January 6th, 6:30pm) – Comprised mostly from films that played in the Short Cuts Canada programme at the proper TIFF back in September, three of the films in this package we touched on back then. Lingo is an okay look at language barriers getting in the way of an immigrant woman trying to clear her young son's name after an accident. Maloday is a spectacular looking, but somewhat uneven and mixed metaphor trapped inside a very Lynchian all night diner. The best of the three in this batch that we've seen, though, is easily Reflexions, where Martin Thibaudeau subtly and stylishly shows what's really going on beyond the surface expressions on people's faces at a funeral. Also included are the animated romp Kaspar and the comedy Wintergreen.
Programme B (Sunday, January 6th, 9:30) – A package of nothing but deservedly winning shorts, the B show has far more drawing and emotional power than the first. Deco Dawson's mind bending and TIFF award winning short Keep a Modest Head (a trippy recreation of the youth of French surrealist Jean Benoît based around conversations with him) might be the standout, but there's lots to love across these five shorts. Trailer Park Boys creator Mike Clattenberg delivers Crackin' Down Hard, a desert set comedy about a hiker getting into a comically outlandish situation. It's a long walk to get to the simple punchline, but it's charming and fun. Equally awkward and comedic is Herd Leader, where a young woman is forced into caring for an inherited and disobedient pug that she has no interest in. There's also a couple of great art pieces with Patrick Bouchard's stop motion animated look at progress and labour run amok in Bydlo, and some of the grandest wood chopping and nature photography in the Canada's Top Ten series in the simple, but grand Old Growth.
The features:
Cosmopolis (Friday, January 11th, 9:30pm, Saturday, January 12th, 12:30pm) – David Cronenberg's adaptation of Don DeLillo's novel keeps a lot of the same dialogue that the author is known for, but that also might account for the misunderstanding and disconnect suffered by a lot of audience members during the film's underperforming theatrical release. For what it's worth, inclusion in Canada's Top Ten should be the first step towards the reclamation of a film that might have suffered from an extremely high bar of unrealistic expectations.
The End of Time (Saturday, January 12th, 6:45pm, Sunday, January 13th, 12:30pm, Also formally opening at the TIFF Bell Lightbox on Wednesday, December 12th) – Filmmaker Peter Mettler's returns to somewhat avant-garde documentary with this look at the very concept and malleable nature of time. From stunning looking lava floes to run down inner city streets strewn with detritus and broken dreams, Mettler proves an adept visualist still, even though the film almost unconscionably and somewhat arrogantly goes on for twenty minutes too long for an unnecessary art piece that feels out of place.
Goon (Monday, January 7th, 9:30pm, Tuesday, January 8th, 4:00pm) – The biggest commercial success story to come out of Canada this year, Michael Dowse's hockey comedy proves that our cinema can have a national identity outside our borders without sacrificing what makes it special. A wonderful blend of the lowbrow and heartfelt, it's inclusion is extremely welcome and refreshing even without taking into account its role in a hockey-free year.
Laurence Anyways (Saturday, January 5th, 8:00pm, Sunday, January 6th, 12:00pm) – Quebecois wunderkind Xavier Dolan's latest is also his best overall film, despite still looking a bit too much like a perfume ad at times. This epic 161 minute romance is as ambitious as it is emotionally resonant.
Midnight's Children (Thursday, January 10th, 6:00pm, Friday, January 11th, 3:00pm) – If there's one outright misstep in the bunch that springs to mind immediately from the jury's selection, it's Deepa Mehta's misguided attempt to reign in Salman Rushdie's epic novel about growing up in the shadow of a divided India as a gifted youngster. The film doesn't fail because Mehta isn't trying her hardest, but rather because Rushdie was allowed to write his own script and he's too arrogant to stop fawning over his own material like it's the gospels. It looks great, but there are roughly 5 or 6 other films that could have and should have had this slot instead of just giving it to someone with name value.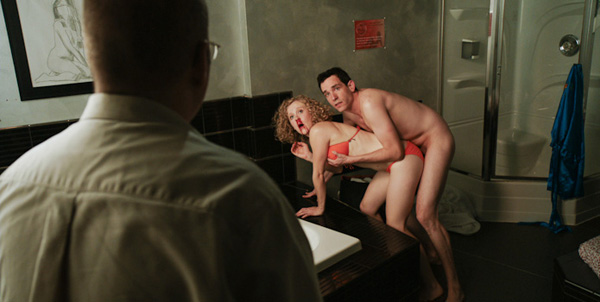 My Awkward Sexual Adventure (Saturday, January 12th, 9:45pm, Sunday, January 13th, 3:30pm) – Probably the biggest sleeper selection of the bunch, this TIFF 2012 charmer looks at an accountant's unlikely agreement with a stripper to look into a new sort of sexual awakening with hopes of winning back the wife who left him partially because he was terrible in bed. It's a simple story told without constantly ribbing the audience for laughs. It's as real and polished as Canadian comedy often gets.
Rebelle (Tuesday, January 8th, 7:30pm, Wednesday, January 9th, 4:00pm) – Kim Nguyen's story of a young girl forced into becoming a child soldier packs a real punch and offers up a well structured story as we look across several years in her life. It's also the official selection by Canada to send along to the Academy Awards for consideration.
Still (Friday, January 4th, 8:00pm, Saturday, January 5th, 12:30pm) – Also arriving by way of this year's festival, Still finds director Michael McGowan rebounding nicely from Score: A Hockey Musical with a well intentioned if somewhat maudlin and old timey story of a man (a spectacular James Cromwell) running afoul of city building codes when all he wants to do is build a safe home for his beloved wife to live in. It's meant to invoke feelings or warmth and melancholy and it does it well enough.
Stories We Tell (Saturday, January 5th, 5:30pm, Sunday, January 6th, 3:30pm) – Sarah Polly made what's quite possibly the best Canadian film of the year with her heartwrenching and deeply personal look at her own family history. It's a documentary that holds a lot of surprises for the viewer and is almost inherently identifiable even if th viewer can't relate to the exact same situation word for word. Polley will also be on hand during the series for a Maverick's talk with TIFF's Cameron Bailey before the screening on the 5th at 3:30pm, which is rare since Polley has stated that all that needs to be said about her film can be seen on the screen. She's not wrong in the slightest.
The World Before Her (Wednesday, January 9th, 7:30pm, Thursday, January 10th, 4:00pm) – It might seem strange that this year's selections include three documentaries, but Nisha Pahuja's look at two different forms of female indoctrination in India for young women (one a militant camp and the other a renowned beauty pageant) isn't like any other film this year. It gets inside hard to reach places and pulls out two truly and unexpectedly intertwined stories.
For more information and tickets, visit http://tiff.net/topten
Advertisement
---
---
Advertisement
---
FROM AROUND THE WEB
Advertisement