Despite a heroic performance from Black Panther star Chadwick Boseman, 21 Bridges is very much an anti-comic book movie. Instead, director Brian Kirk's gritty New York crime flick arrives in theatres with an old-school swagger. These days, mid-budget crime thrillers get relegated to streaming services, so 21 Bridges is a welcome return of the genre, a movie that should satisfy fans of films like The French Connection and A Walk Among the Tombstones.
Adam Mervis and Matthew Michael Carnahan's screenplay features the perfect setup for a New York crime story; crooked cops, a drug deal gone bad, and a world-weary detective hot on the bad guy's tail. Michael (Stephan James) and Taylor Kitsch (Ray) are two former marines who cross over to the wrong side of the law when they rob a restaurant that is also a front for local drug pushers – at least they're stealing from other criminals, right? But their plan goes off the rails when several crooked on-duty cops show up to pick up the drugs. A shootout ensues, and they use their military training and powerful assault rifles to mow down a wave of police.
The robbers become the NYPD's number one target, and it falls on detective Andre Davis (Chadwick Boseman) to track them down. His father was a cop who was killed on the job, and thay became Andre's origin story. Now a hardened man, Andre brings a smouldering need for vengeance to his work. He's earned a reputation for killing cop killers, and it's understood that he'll do the same to Michael and Ray.
To stop the fugitives before their scent goes cold, Andre orders law enforcement to shut down the 21 bridges and tunnels leading in and out of Manhattan, trapping everyone on the island. But New York is the city that never sleeps, and the bridges can't stay closed for long. Now racing against the clock, Andre has several hours to catch his targets before the city reopens.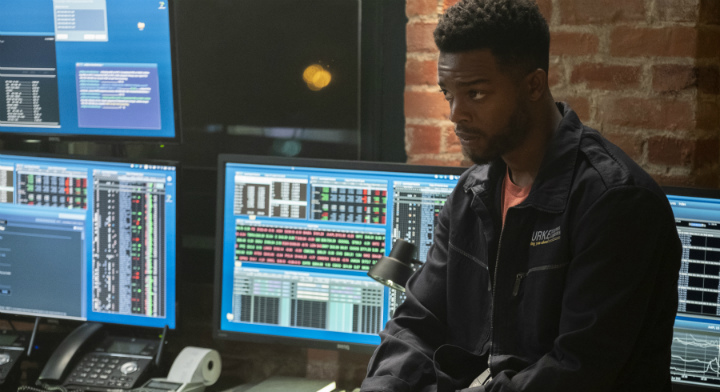 Clocking in at a little over 90-minutes, 21 Bridges puts its foot on the gas and never lets up. The cops and crooks are in a game of cat-and-mouse, sure, but they're also caught in a race against time, and you feel the sense of desperation setting in as the night carries on. Kirk packs his film with a series of shootouts, foot chases, and narrow escapes to keep you on the edge of your seat for the entire ride.
Paul Cameron's brooding cinematography paints Manhattan's streets in shadows (whenever they're not lit up by bodega signs and police sirens). Cameron shoots New York as a concrete jungle that is both a vibrant, sprawling metropolis and a constricted maze. Alex Belcher and Henry Jackman's operatic score adds to the plot's mounting tension, elevating the emotional stakes during every car chase and gunfight and instilling a sense of dread.
I use the word dread because this film asks you to relate to the Michael character. Unlike his partner, Ray, Michael isn't a cold-blooded killer, just a guy who wound up in over his head. He never planned on robbing the cartel or dropping bodies, especially cops, but now all the police in Manhattan want him brought in dead.
We spend a considerable chunk of the film following Michael, and James does a fantastic job making his crook someone we can empathize with. 21 Bridges is a fast-paced thriller and not an in-depth character study, so it falls on James' performance, and not the script, to bring texture to the role. This movie doesn't work if we don't feel for the character.
Boseman brings a quiet intensity to his character that feels on-brand for the genre – Andre would fit right in beside Jack Nicholson's J.J. Gittes in Chinatown. Although he's a legit badass, his gravitas come at the expense of charm. I'm not saying he needs to crack-wise or have a romantic subplot, but the film could use better dialogue between Andre and his fellow cops (Sienna Miller, J.K. Simmons, Keith David).
Kirk wants this film to say something profound about the state of the world, and it does so in broad strokes. After all, it's 2019 and 21 Bridges is a story about a black cop racing to take down a black crook before the police dispense vigilante justice. Although 21 Bridges works well as a crime-thriller, it's not as effective as a social commentary. This film tests its protagonist's moral certainty by throwing him into a situation where everything is some shade of gray. As the film leans into certain genre tropes, what unfolds becomes all too predictable. The film's themes feel less like revelations than inevitabilities.
Fans of old-school crime flicks will feel right at home with 21 Bridges. When I spoke with James during a recent interview, he said that the movie would make a good double feature with Heat. While it may sound like heresy to compare a new film to Michael Mann's unassailable classic, both films scratch the same type of cinematic itch. 21 Bridges is a rock-solid, low-stakes crime film that keeps you hooked for 90-minutes.
21 Bridges arrives in theatres on November 22, 2019.
Advertisement
---
---
Advertisement
---
FROM AROUND THE WEB
Advertisement