The best of best-of lists should both illuminate and infuriate. They should remind readers about hidden gems. They soothe with offerings of respected classics alongside the surprising (or appalling!) with selections that might not be your cup of tea.
Our goal here isn't to enshrine films in a canon, but rather to celebrate a decade spent devouring films and debating them. Think of this survey as a decade-spanning cinematic playlist. It represents our disparate voices and tastes in a way that lets readers know a little bit more about us here at That Shelf, but also maybe a little bit about yourself and your own tastes as well.
Our selection has a fairly even distribution of films over these ten years, eschewing the normal tendency to either focus on recent successes or be overly generous to films from the past. The end result is a selection of works that helped shape not only our cultural conversations, but also the very way we've watched the legacy of cinema evolve these past ten years. There are blockbusters and hidden indies, horror flicks and art house fare (sometimes in the same film!), some titles you may have never heard about, and some you may wish you had forgotten.
We have divided our list by year and removed arbitrary rankings within the selection. We hope this structure helps you discover some films that were pitted against each other at the time of their release, situating them in a context that's not always obvious when scrolling through the mass of titles on your preferred streaming platform.
Over the recent decade, there has been massive shift in the way we watch and discover films. Over the 2020s, the inevitable slide away from theatrical releases and physical media towards competing SVOD platforms will surely make it even harder for audiences to coalesce around a shared set of titles. The 2010s are a period of transition, and that uncertainty, experimentation, and adherence to both staid formulas and bold new visions embodies this period in substantial ways.
In this decade where "the discourse" about film is increasingly fuelled by clickbait takedowns and screeds against this or that cultural product, it's easier to hate something rather than to stand up and champion a film that everyone should see. We are trying at That Shelf, in our own way, to find space where we can articulate why we like stuff. We invite you to share in our enthusiasm and appreciation for something that clicks. If it's not for you, hopefully you can appreciate what we see in a given film. This sentiment doesn't emerge from a banal mode of fan sycophancy, but instead out of a sense of community-building fuelled by a genuine, unironic adoration for these films that thrill us, move us, and, when they're at their best, make us giddy with the power of the medium. We devote hours of our lives poring over these movies, and we look forward to you joining us along our journey through a decade in film.
The original team that built the bones of this site did so in order to create a platform for things we love, using as their central metaphor a shelf that serves as something more than mere storage space, but instead a place of pride where you collect and share things that mean something to you personally. In the last year, we have taken that spirit to a new level while building an entirely new slate of exceptional contributors. Our exploration of this changing landscape continues, and as we look back over the last ten years, we look forward to what's to come, hoping you'll join us in the discussion and find in our own enthusiasm a similar sentiment of celebration.
We could have easily come up with hundreds more titles, and ask any one of us and they'll find something they'll shake their head about. But overall this is what we have chosen to showcase. Notably absent are documentaries – the world of nonfiction has been even more transformational than its fiction counterparts, and we'll be tackling some of the masterpieces from the last ten years separately.
We've cleared off some space on That Shelf for 100 of our favourite movies. I'm betting you can find more than a few worth admiring yourself.
Jason Gorber
Managing Editor, That Shelf
2010
The most economically successful film of 2010 in fact came out in December, 2009, as James Cameron's Avatar rode past its holiday entrance to dominate the multiplexes well into the new year. This utopic vision and unabashed embrace of new kinds of filmmaking brought with it a general (if short-lived) fascination with 3D cinema. What lasted was a worldwide appetite for blockbusters that resulted in the "spectacle film" taking on truly global proportions. The second biggest hit was Toy Story 3, and along with the likes of Iron Man 2 (#4), the reliance upon expanding existing titles continued apace. These box-office juggernauts, along with delightful animated fare like Tangled (a film that came very close to inclusion on our list) helped pave the way for Disney's eventual domination of the marketplace.
Our writers focused on a number of films that merged the sensibilities of spectacle with deeper ideas, delving into notions of love and fandom, or taking the tools of modern filmmaking and (literally) turning it on its head. At the time of its release David Fincher's The Social Network felt almost premature – now it feels prophetic. David Michôd's Animal Kingdom is deeply deserving of (re)discovery, with some of the more stellar performances of the decade wrapped in a gem of a genre flick, while Mike Mills' Beginners shows that even tired rom-com tropes can be injected with new life. Aronofsky saw his biggest success with a film about madness, fame and pushing art to the limit. Finally, there's the first of several inclusions of Denis Villeneuve, a truly exceptional filmmaker who helps bring his Canadian-bred cinema to the world's stage. (JG)
Contributors: Jason Gorber (JG), Will Perkins (WP), Victor Stiff (VS), Pat Mullen (PM), Deirdre Crimmins (DC), Rachel West (RW), Courtney Small (CS), Matthew Hoffman (MH), Daniel Grant (DG), Colin Biggs (CB), Jenny Bullough (JB), , Joe Lipsett (JL)
Animal Kingdom
The first feature from David Michôd (The King, The Rover) – and inarguably his best – follows a young man (James Frecheville) thrust into his family's Melbourne crime business following the death of his mother. Somber, tense, and with a deeply disturbing use of Air Supply's "All Out of Love", Animal Kingdom remains one of the greatest crime dramas of our time. This is the film that turned American audiences on to Joel Edgerton, Ben Mendelsohn and Jacki Weaver (who received an Oscar nomination for her performance as matriarch Smurf Cody). Weaver is simultaneously camp and terrifying, spouting line deliveries that have stayed with me a decade on. Additional astonishing Australian actors appear – Guy Pearce as the detective trying to end the Cody family's reign is particularly delicious – resulting in a film that is less flashy than its American mob movie counterparts. While the film flew largely under the radar upon release, Animal Kingdom is nonetheless an unmissable crime drama, with Weaver delivering one of the great performances in the history of cinema. (MH)
Beginners
Writer/director Mike Mills' Beginners is the kind of romantic drama that people who claim they hate romantic films can get behind. It's a funny, witty, and ultimately heartfelt look at a father/son relationship that hits an impasse when Oliver (Ewan McGregor)'s elderly father Hal (Christopher Plummer) reveals that he is both gay and dying from terminal cancer.
Plummer's Best Supporting Oscar performance is the comedic highlight of the film, but Beginners would be adrift without the burgeoning relationship between Oliver and Anna (Mélanie Laurent), which is equal parts playful and sexy (the film should have cemented Laurent as one to watch in the wake of Inglourious Basterds, and yet…).
Ultimately Beginners is a celebration of both familial and romantic love, of old doors closing as new ones open, and the challenges of parenting your parents when you're an aimless adult. McGregor has never been as effortlessly charming and Laurent is adorable. Oh, and there's a super cute dog, too. (JL)
Black Swan

To quote Nina Sayers in the final seconds of Darren Aronofsky's Black Swan, "I was perfect." Visionary horror films spread their wings this decade, but no genre film matched this dance with the devil. This psychological ballet chiller used every element of film form to its advantage. The whirling cinematography by Matthew Libatique and Clint Mansell's sinister re-imagining of Swan Lake on the soundtrack made Aronofsky's film a devilish delight for the A/V club. From Winona Ryder's art-imitating-life performance as the haggard has-been begrudgingly passing the crown to a new "it girl," to Natalie Portman's Oscar-winning performance as a star soaring to new heights, Black Swan entranced with its interplay on contrasts and dualities. Light and dark and black and white contrasted in Betty and Veronica binaries of good and evil as the film explored Nina Sayers' naïveté and taste for danger.
As Black Swan stretched its toes, flapped its wings, and spun genre conventions, the film invited audiences to recognize the white swan and the black swan that exist within all of us as we reconcile our ambitions and demons. One could have tossed about a few ballet metaphors to express Aronofsky's triumph, but to call Black Swan a grand jeté or a symphonic pirouette would have been to mute the film's greatness. This Swan is of an infinite wingspan. Its ability to soar is without equal. (PM)


Incendies

The Shelf team rallied behind numerous Denis Villeneuve films while making this list. It's therefore fitting to include the 2010 masterpiece that put him on the map. This Oscar nominee marked a landmark for Canadian cinema that began a trio of consecutive nominations in the Best Foreign Language Film category. Incendies was also a milestone for opening the conversation about what constitutes "Canadian" cinema.
It expanded the frame by situating tangibly Canadian stories within a larger global story of displacement and migration as Nawal (Lubna Azabal) arrives in Canada from an unnamed war-torn country. The accentuation of the elements of Greek tragedy from the great play by Wajdi Mouawad, such as the addition of the tri-spotted Oedipal tattoo that connected the fates of Nawal's children, offered access points that place Nawal's own tragedy within a greater cultural mythology. Denis Villeneuve's adaptation of Mouawad's play demonstrated a greater opening up of Canadian film as Incendies itself opened up the stage play into the larger and more dynamic world of film. Incendies showed that a Canadian film could be relevant to Canada by transporting the action around the globe and bringing it home. (While challenging the idea of "home" too.) Canadians should be proud that Villeneuve went on to bigger things while maintaining his authentic voice and artistic vision. (PM)
Inception

Having made multiple trips to the theatre to try to make sense of Inception and enjoying every visit, the real thrill of this Christopher Nolan film was every subsequent debate with a friend or family member who'd also made multiple trips to the cinema to try to decode it. The film works as a great allegory for making a movie, with each character representing a key role in filmmaking. However, there is also the great feeling you get as Nolan provides you with vocabulary words like "kick" to describe a feeling we've all had without being able to properly name it.
Another reason Inception makes this list is its ending. All the work that goes into the film earning the audible gasp at least two of the audiences I saw this film with let out when the film goes from the spinning top to the credits. Those gasps represented our collective investment in the characters at the centre of all the crazy dream heists. (DG)
Scott Pilgrim vs. The World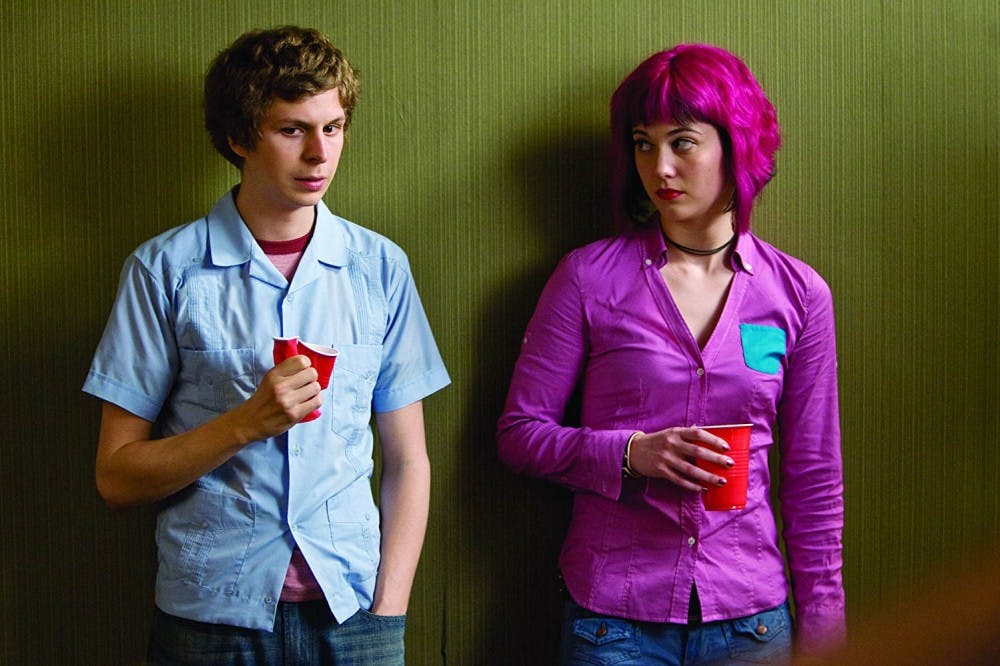 Scott Pilgrim is in love with Ramona Flowers, but he can't date her until he defeats her seven evil exes. Bright, kinetic, energetic, and witty, this film is one of director Edgar Wright's best. With a script based on the graphic novel series by Bryan Lee O'Malley, the movie evokes video games and graphic novels with its frenetic pace and magical-realist plot. Wright's signature smash-cut sight gags abound, and the movie isn't afraid to get ridiculous in its quest for laughs. And, it gets bonus points for being not just filmed in Toronto, but set in the city as well.
It's funny and fast-paced, packed with action and jokes; but also manages to deliver a thoughtful meditation on how an abusive relationship can warp your sense of self and make you question your identity. It's unlike any other movie and none that I've seen since have shaken it from its place in my top 10 of all time. (JB)
The Social Network (2010)
Back when Facebook was universally loved and Mark Zuckerberg was lauded as a tech genius, this film presciently portrayed him as a frustrated narcissist seemingly devoid of empathy. While Zuckerberg builds the massive network aimed at connecting people, he slowly but surely alienates his friends, leaving him a sad gajillionaire pressing "refresh" on his own friend request like a modern version of Charlie Kane stalking through his empty mansion mumbling "Rosebud". Directed by David Fincher with a script by Aaron Sorkin, the film is a moody study of how success does and doesn't change a person's fundamental self.
Did Zuckerberg steal the idea for Facebook from the Winklevoss twins, played brilliantly by Armie Hammer? Did he cheat his best friend Eduardo Saverin (Andrew Garfield) out of his fair share of the company? Maybe. What he most definitely did do is build one of the largest companies and amass one of the biggest personal fortunes on Earth, while simultaneously showing a callous disregard for the ways Facebook has undermined (and undoubtedly still undermines) the very fabric of democracy itself by enabling the spread of disinformation.
There's little chance the creators of The Social Network could have known what kind of influence the social media giant would ultimately have; but their portrait of Zuckerberg as someone who ultimately cares only about his own gains is eerily prescient. It's well worth a rewatch as we head into what will surely be a tumultuous election year, and definitely belongs on this list of best of the decade. (JB)
Advertisement
---
---
Advertisement
---
FROM AROUND THE WEB
Advertisement