Who knows if there will be a Palme d'Or winner in 2020? The 73rd edition of the Cannes Film Festival was supposed to start today, but the world's glitziest and most influential cinematic event is on hiatus along with the rest of the industry as COVID-19 takes its toll. Cannes artistic director Thierry Frémaux admirably (or frustratingly, depending on one's view) hung on by his fingernails delaying the call to postpone best he could. There are hopes that Cannes will return, in some form, in late summer. Alternatively, TIFF and Cannes are willing to work together, so maybe the next Palme d'Or will take the form of a maple leaf.
Regardless of what happens with Cannes, though, it's a major blow to the film industry. It's especially disappointing after the festival had one of its best years in recent memory in 2019. Parasite's one-two punch of the Palme d'Or and the Best Picture Oscar marked only the third time a film won both honours. Given that the previous films were 1955's Marty and 1945's The Lost Weekend, that's no easy feat. Additionally, Brad Pitt's Oscar win for Once Upon a Time in Hollywood… and the stupendous runs for award season favourites like Les Misérables, Pain & Glory, and Portrait of a Lady on Fire only bolstered Cannes' pedigree while joining Parasite as proof that cinéma is alive and well in the age of streaming.
To salute the festival's legacy, the That Shelf team endeavoured to determine the best of the Cannes Palme d'Or winners. Whittling out the best of the best among 72 years' worth of winners is no easy feat. But, hopefully, this list of top Palme d'Or winners helps readers create a Cannes Film Festival of their own at home.
How we ranked the Cannes Palme d'Or Winners
All contributors of That Shelf's team were invited to submit a ranked ballot of up 20 of their favourite Palme d'Or winners. We considered all 'top prize' equivalents in the history of the Cannes Film Festival and included years before the award was named the Palme d'Or or presented with a different moniker. (ie: the "Grand Prix" years) Ballots were weighted with 20 points for the #1 selection, 19 points for the runner-up, and so on.
The team's picks overall reflect the eclectic range of tastes among contributors. Over fifty Cannes Palme d'Or winners received at least one vote. Classics and contemporary winners alike are represented, although the final spreadsheet somewhat reflects the limited availability of some films. In many cases, a Palme winner is hard to find if it doesn't have a pimped-out Criterion edition. Only one film received two number one votes (La dolce vita) and was the love-it-or-leave-it film of the contest, again indicating the wide range of tastes.
The Results
Only one director, Francis Ford Coppola, graces the list twice with both his winners. (1974's The Conversation and 1979's Apocalypse Now.) Surprisingly, many of the directors with two Palmes to their name failed to make the list. Michael Haneke looks to have cancelled himself out with The White Ribbon (2009) and Amour (2012) each receiving votes, but not enough to land him on the list. (The latter even had a #1 vote from Emma Badame and was just a few points shy of the top 21.) Even more surprising, some directors with two Palmes—Alf Sjöberg (1946's Torment and 1951's Miss Julie), Emir Kusturica (1985's When Father Was Away on Business and 1995's Underground), and, most notably, Luc and Jean-Pierre Dardenne (1999's Rosetta and 2005's L'enfant)— failed to land a single vote.
Two-Palmers Bille August (1988's Pelle the Conqueror and 1992's The Best Intentions) and Shohei Imamura (1983's The Ballad of Narayama and 1997's The Eel) each received votes for both of their winners, but they weren't enough. Ditto presumed Cannes favourites like Jacques Demy's The Umbrellas of Cherbourg (1964), the Coens' Barton Fink (1991), and Cristian Mungiu's 4 Months, 3 Weeks, and 2 Days (2007). Even Roman Polanski received a vote—because it just wouldn't be Cannes without controversy.
Some recent winners obviously aren't aging as well as others. Our team seems to have collectively erased Dheepan (2015) and Blue Is the Warmest Color (2013) from memory – but we'll link to Jason Gorber's review of Abdellatif Kechiche's Mektoub, My Love, anyway, just for fun. Other recent winners like Uncle Boonmee Who Can Recall His Past Lives (2010); The Tree of Life (2011); Winter Sleep (2104); I, Daniel Blake (2016); and The Square (2017) all received support, but without the higher-ranked passion votes to land them in the top tier. However, the most recent winners, Hirokazu Kore-eda's Shoplifters (2018) and Bong Joon-ho's Parasite (2019), will hold up for years to come.
Please join us in saluting the best of Cannes as we eagerly await the return of film festivals!
Our Palme Picks:
*Years listed represent the film's Cannes Palme d'Or win and not necessarily the year of its theatrical release.
19. (tie) Viridiana (dir. Luis Buñuel, 1961)
Viridiana was denounced by the Vatican as an insult to Christianity and banned by Francisco Franco's government in Spain for seventeen years immediately after its win at the Cannes Film Festival – with no mention of it even allowed in public. Much of the positive reception for the film has come in recent years due to its shocking content. The story of a titular young novitiate whose life is upended by a visit to her estranged uncle is classic Buñuel, a scathing indictment of both religion and the bourgeoisie.
This film is glorious in its biting satire. Beyond the cloistered walls of the convent, Viridiana learns of a world of shocking contradictions where forced piety regularly clashes with sexual desire. They cannot coexist. Neither is religious charity a simple matter with its strict enforcement of rules. When her uncle dies and leaves her with part of his estate, Viridiana decides to take in and 'save' some of the local poor. But the unruly laws of human nature preclude that and her experiment leaves only destruction in its wake. Viridiana features the famous 'beggars' banquet' scene, complete with the Hallelujah Chorus as gleeful accompaniment. Still relevant today, this film remains a masterpiece. – Barbara Goslawski
19. (tie) Dancer in the Dark (dir. Lars von Trier, 2000)
Perhaps the definition of a "Cannes musical," Dancer in the Dark is a bleak adventure on death row. Björk gives a devastating performance as Selma, a woman who pursues the American Dream as vision fails her and encounters a fabled U.S. pastime: capital punishment. Featuring a swell supporting performance by Catherine Deneuve and a memorable collection of "Selma songs," Dancer in the Dark marks a career peak for bad boy Lars von Trier. His signature Dogme 35 aesthetic rejects the frivolous trappings of Hollywood. It spins Tinseltown's most escapist genre on its head with stripped-down musical numbers. The film serves desolate misery where Hollywood musicals provide dreamy optimism. But it's truly uplifting, albeit in the Lars von Trier sense of the word.
Dancer scored numerous accolades for Björk's performance, which deservedly won a Best Actress prize when Cannes still allowed multiple jury awards per film. But the film's legacy might ultimately be its Academy Award nomination for the haunting song "I've Seen It All." Without it, Björk might not have worn that stupid swan dress to the Oscars. – Pat Mullen
19. (tie) Brief Encounter (dir. David Lean, 1946)
Perhaps one of the more conventional films on our list, Brief Encounter is a small gem with a big emotional impact. Housewife Laura (Celia Johnson) has a chance encounter with Alec (Trevor Howard) at a railway station café and their connection is instantaneous. They find themselves meeting weekly and gradually falling for each other, though both are married with children and know nothing can come from their affair. The screenplay—adapted from Noël Coward's play Still Life—hits just the right notes of intimacy and longing, each moment underscored perfectly by Rachmaninoff's Piano Concerto No. 2. But the film's true and continued success is down to David Lean's sensitive direction and the incredible, powerful performances at its core. It's a bittersweet and painfully believable look at the realities of love—one that stays with you long after the credits have rolled.
Aside from winning Cannes's highest honour, the film was nominated for three Academy Awards (Best Director, Screenplay, and Actress) but lost out to William Wyler, The Best Years of Our Lives, and Olivia de Havilland respectively. The British Film Institute voted it the second greatest British movie of all time, behind only The Third Man—another Cannes winner that made our list. – Emma Badame
18. All That Jazz (dir. Bob Fosse, 1980)
Bob Fosse's showstopping labor of love debuted at Cannes only a month after winning four Oscars and two BAFTAs. (Its 1979 U.S. release date made it eligible the prior awards season.) All That Jazz is one of the best self-reflective, loud, ego-driven extravaganzas to play the festival. The Cannes jury headed by Kirk Douglas saw Fosse's film tie for the Palme d'Or with Akira Kurosawa's Kagemusha. While Cannes had awarded American films in the past, there was never one quite like the razzle dazzle of All That Jazz. Roy Scheider is superb as Fosse stand-in Joe Gideon in a film where every inch is choreographed perfection, including the highs and lows of a sometimes cringe-worthy life.
FX's award-winning series Fosse/Verdon with Sam Rockwell as the famed choreographer is a must-see for fans of All That Jazz as it chronicles his life and career including the making of All That Jazz. – Rachel West
17. Paris, Texas (dir. Wim Wenders, 1984)
Wim Wenders' masterpiece Paris, Texas travels slowly down a river of emotion. In its tale of one man, Travis (Harry Dean Stanton), as he attempts to repair his fractured family, the film exposes just how jagged the broken pieces really are. Trauma and regret washes over every aspect of the film. Characters are so consumed by the past that they have lost sight of themselves and others.
Playing like a western, one where uncomfortable silence pierces deeper than a bullet from a six-shooter, Paris, Texas defies conventions with every step. Travis is transformed from ragged wanderer to something more riveting and complex. One may not agree with all of his decisions, but by the end you understand his plight. Featuring richly constructed performances by Stanton and Nastassja Kinski, who plays Travis's estranged wife Jane, Paris, Texas is endlessly watchable and constantly mesmerizing. – Courtney Small
16. Shoplifters (dir. Hirokazu Kore-eda, 2018)
It's great to be able to celebrate a director being awarded the biggest prize of his life for the right film at the right time. (Admittedly, Cannes has a much better record than the Oscars in this respect.) The whole of Japanese director Hirokazu Kore-eda's stellar career seemed to be a journey towards Shoplifters, which stole a march on the competition to take home the Cannes Palme d'Or in 2018.
The Japanese director says Britain's Ken Loach inspires him and who are we to argue? After all, the sleight-of-hand in Shoplifters is that he makes heroes out of characters that seem like they're going to be villains. When petty thief Osamu Shibata (Lily Franky) and his son Shota (Kairi Jyo) raid a grocery store, they discover a five-year-old girl covered in bruises and abandoned. They take her home. It turns out that they're not the Corleones. The Shibata family work hard at menial jobs but have to steal to make ends meet. Just as we're settling into this modus operandi, the dastardly biological parents of Juri appeal for her return on TV. Kore-eda asks what's the real crime here: stealing or bad parenting? And should Japan value biological parentage above good parenting? This heartbreaker is told in an unobtrusive style that challenges without pointing fingers. – Kaleem Aftab
15. sex, lies, and videotape (dir. Steven Soderbergh, 1989)
If imitation is the best form of flattery, then sex, lies, and videotape is among the most flattered films of all time. Steven Soderbergh's first feature – a rare feature debut to win the Palme – marked a turning point for American independent cinema. The film notoriously edged out Spike Lee's frontrunner Do the Right Thing when Cannes jury president Wim Wenders reportedly didn't understand why Mookie threw a trashcan through the window of Sal's pizzeria, essentially validating Lee's point with the film that white people value property over Black lives. But videotape nevertheless holds up as a worthy choice in its own right even if Lee's film remains explosively powerful.
Fuelled by excellent performances from James Spader, Laura San Giacomo, and a never better Andie MacDowell, the film's accolades include three Independent Spirit Award wins and an Oscar nomination for Soderbergh's screenplay. Its influence reverberates in many American indies made throughout the 1990s and early 2000s, particularly as VHS tapes gave way to crappy digital video. Even Best Picture winner American Beauty owes a great deal of credit to Soderbergh's slow and wonderfully talky meditation on the repressed desires of bored suburbanites. It's worth noting, though, that the mediated confessionals and the interplay between film and video owes its own debts to Atom Egoyan. But the many knocks-offs, most of which are terrible, simply keep sex, lies, and videotape fresh when other films of the era feel dated, including Egoyan's work. Many films can mimic sex, lies, and videotape, but few stand among it as equals. – PM
14. Missing (dir. Costa-Gavras, 1982)
Costa-Gavras made a series of politically controversial films, including his Oscar-winning Z, but his best film turns his attention to an unnamed South American country that is actually Chile after the Pinochet coup. Ed (Jack Lemmon) arrives from the United States to discover that his son (John Shea) hasn't been seen since he was arrested by military troupes. Ed joins his daughter-in-law (Sissy Spacek), with whom he is constantly at political and ideological odds, in a search for his missing son. The two of them uncover one clue after another before beginning to suspect that Shea was disappeared after finding out more than he should about American involvement in the coup.
What the film insinuates is outrageous, so much so that the U.S. Government sued the studio and the film was unavailable on home video for years until the suit was settled. However, even if you don't go for its theories, it works on all levels. Missing explores the personal conflicts of its characters and it works brilliantly as a detective thriller. The early '80s were awash in political thrillers set in faraway places and this, which shared the Palme d'Or with Serif Gören and Yilmaz Güney's Yol, is the cream of the crop. – Bil Antoniou
13. The Wind That Shakes the Barley (dir. Ken Loach, 2006)
For years, Ken Loach's look at the Irish War of Independence starring Cillian Murphy was the highest-grossing independent Irish film (until John Michael McDonagh's The Guard in 2011) and the biggest box office success of Loach's career. Initially, interest in the film about the British confronting their imperial past was low in the UK with only 30 prints of the film earmarked compared to 300 in France. Following the Cannes win, interest in the film in Loach's native country grew, helped along by the filmmaker's call as a member of the socialist Respect party, which he was on the national council for at the time. The political party called on Britons to seek out the film in cinemas on its first weekend of release to help persuade expansion into more theatres.
Loach has a long history with the festival, having brought 16 films to Cannes to date. His I, Daniel Blake was also awarded the Palme d'Or (in 2016), making him the eighth director to win twice. (Or ninth, if we count both Dardenne brothers.) Despite the big Cannes win, the Palme d'Or had little impact on the rest of the awards season with the film failing to rack up more than one or two minor critics circle wins. – RW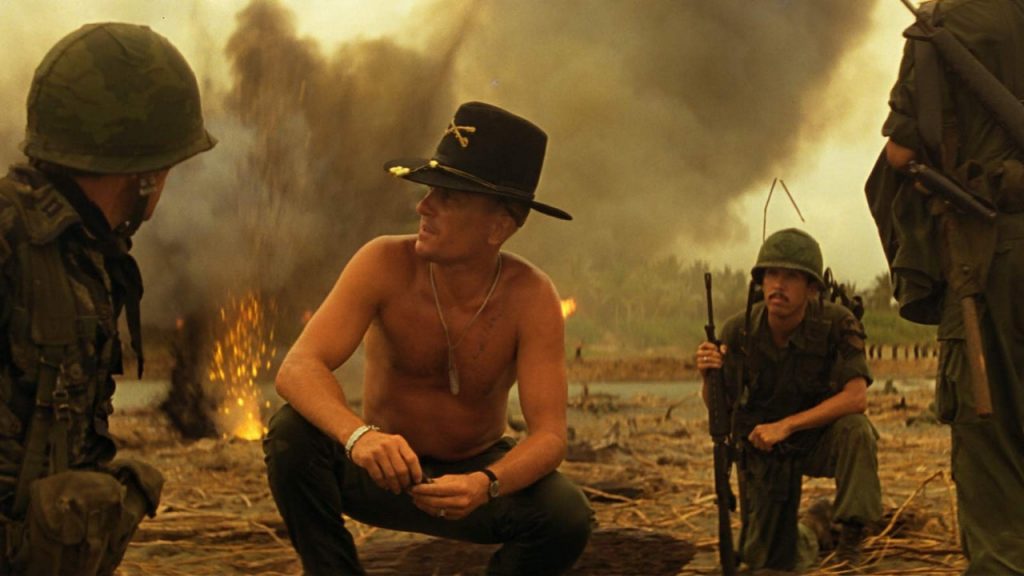 It's fittingly perfect that, for history of the Cannes festival, my pick for the greatest Palme d'Or winner was screened as a workprint with the director excoriating critics for reviewing the work in progress. Coppola would famously say at the presser, "My film is not about Vietnam, it is Vietnam." In the years that followed, this sentiment has solidified from throwaway line to near prophesy. He described the production thusly: "We had access to too much money, too much equipment, and little by little we went insane." The collisions between art and subject, history and mythology, and celebration and excoriation elevate Apocalypse Now from mere spectacle to one of the highest levels of technical, narrative, and thematic art that any motion picture has ever achieved.
The film was originally to be shot on 16mm film in the jungle by George Lucas and John Milus, meant to be a small, spry affair about the intoxicating savagery of warfare. However, its scope swelled when Coppola took the helm, doubling down on the Conrad novel and inflating his epic into a 238-day shoot exposing over a million feet of film. It should have been a mess and before its Cannes screening, it looked like it might be a folly of apocalyptic magnitude. Instead, we got poetry and pageantry, battles and brutality, symphonic helicopters and a bloated icon throwing (literally) T.S. Eliot at the screen.
Apocalypse Now is as salient now as ever, a bitter and brilliant critique of colonial exceptionalism as well as a cri de coeur for humanity in the face of industrialized mayhem. There's never been another film quite like it, yet almost every masterwork since owes something to its unique blend of magic and mystery, its horror and its hubris, its glorious excesses and its brilliant subtleties. I say this with extreme prejudice – there have been more than a few masterpieces to take top prize at Cannes, but none near as extraordinary as this magnificent masterpiece. – Jason Gorber
11. Black Orpheus (dir. Marcel Camus, 1959)
Winner of both the Palme d'Or and the Academy Award for Best Foreign-Language film, Marcel Camus' Black Orpheus is deserving of all its praise. Based on the play Orfeu da Conceição, which set the Greek myth of Orpheus and Eurydice in in the slums of Rio de Janeiro during Carnival, the film weaves themes of love, death, isolation, and mysticism into its Romeo and Juliet style love story. From the moment Eurydice (Marpessa Dawn) meets trolley driver Orfeu (Breno Mello), their chemistry radiates off the screen. Orfeu may be engaged to the equally beautiful Mira (Lourdes de Oliveira), but Eurydice is clearly his true soul mate.
The fact that death is literally lurking around the corner gives greater significance to their moments together. A film whose appeal spans generations—it inspired Arcade Fire's 2013 album Reflektor—Black Orpheus is truly a breathtaking work. Everything from the stunning costume design to the beautiful cinematography lingers in the mind long after the film ends. Throw in irresistible pulsating music and you have a film that will renew your faith in the transcendent nature of love. – CS
10. The Piano (dir. Jane Campion, 1993)
Jane Campion became the first and, so far, only woman to win the Cannnes' Palme d'Or when her sensational romantic drama shared the prize with Chen Kaige's Farewell My Concubine in 1993. Holly Hunter completely revitalized her career as mute Scottish woman Ada McGrath, who brings her own willpower and willful, inventive child (Anna Paquin) to New Zealand where she has agreed to be a mail-order bride to Alisdair (Sam Neill). He can't connect with her and doesn't understand that her piano is her only means of expression. He leaves the piano on the beach to rot after collecting Ada from her voyage. However, nearby neighbour George Baines (Harvey Keitel) salvages it, which inspires him to make an erotic bargain with Ada that soon turns to a full-blown affair. Campion brings mud and sex to the usually staid genre of period films, combining a preposterous fable with a series of convincing, fascinating characters and, as with all her work, vividly capturing everything with her singular ability to create unforgettable images. – BA
9. Secrets & Lies (dir. Mike Leigh, 1996)
While director Mike Leigh has been responsible for his fair share of quality cinema (Happy-Go-Lucky, Vera Drake, Topsy-Turvy, Mr. Turner), this 1996 Palme d'Or winner may be his very best. As with many of his films, Secrets & Lies is a delicate, darkly comic, and sometimes uncomfortably awkward look into the lives of ordinary people. It stars relative newcomer Marianne Jean-Baptiste as Hortense Cumberbatch, a successful, Black London optometrist, who has chosen to go in search of her birth parents after the death of her adoptive mother. What she finds is Cynthia (Brenda Blethyn), a working-class white woman determined to leave her past behind, and her incredibly dysfunctional family. With award-worthy performances across the board, the cast is filled with a laundry list of Leigh regulars including Timothy Spall, Elizabeth Berrington, Ron Cook, Leslie Manville, Peter Wight, and Alison Steadman.
Universally acclaimed, Cannes's top honour (and the Best Actress nod for Blethyn) was just the first of many accolades. Secrets & Lies went on to win the BAFTA for Best British Film, the Goya Award for Best European Film, and the Independent Spirit Award for Best Foreign Film, while securing five nominations including Best Picture at the 69th Annual Academy Awards. It should come as no surprise that Palme d'Or winner is essential viewing for all. – EB
8. Taxi Driver (dir. Martin Scorsese, 1976)
Though many have tried, it is difficult to argue that Martin Scorsese won the Palme d'Or because this film was the first of its kind. Cinema has always kept its eye on grittiness and darkness. Rather, what Taxi Driver does incredibly well is feel modern and timeless, hidden and exposed, polished and raw. Just like that Kris Kristofferson song, it is all about contradictions.
At its core, this is Travis Bickle's story. Robert De Niro brings the unaware psychopath to life, but the character is so large he spills out into voice-overs and spreads over every scene. Bickle's unveiling as a killer can be read as either evolution or expected. Furthering the levels of discomfort, Scorsese's framing of Bickle being a product of society and (most horrifyingly) his perception of women turns the lens of the camera into a mirror. This is us at our worst, and we must face it somehow. While the archetypes and descents are universal, there is no escaping the fact that Taxi Driver is also made of a specific time and place. New York City in the 1970s was dirty and dangerous, and you feel all that filth here. It is the kind of film that makes you want to take a shower after you watch it. – Deirdre Crimmins
7. The Wages of Fear (dir. Henri-Georges Clouzot, 1952)
Henri-Georges Clouzot shot to fame in 1953 when The Wages of Fear won both the Golden Bear at the Berlin Festival and the Palme d'Or at Cannes (a feat that is still unmatched). The Wages of Fear is one of cinema's most famous and influential suspense thrillers, unique in its breathtaking ability to toy with our imagined fears. Pauline Kael summed up the film perfectly, calling it an "existential thriller."
Four down-and-out men are hired on a suicide mission by an oil company to transport nitroglycerin through treacherous wilderness roads. The languid pace of the first section of the film, where we meet the men, transforms ever so slowly into a tortuous, protracted series of extended suspense sequences. During this necessarily slow journey, we register every move, every jiggle in anticipation of an explosion. Clouzot's gift with detail draws us in ever closer to the men and into the heart of the tension – so much so that many have remarked that they felt like the very theatre would explode at any second. Clouzot may have been referred to as the French Hitchcock, but it is in this cinematic universe where we might wonder who is the real master of suspense. The Wages of Fear was remade by William Friedkin as Sorcerer (1977), but the original still holds up brilliantly. – BG
6. The Conversation (dir. Francis Ford Coppola, 1974)
1974 saw the release of two Francis Ford Coppola films, The Godfather: Part 2, which won the Best Picture Oscar, and the Palme d'Or winning The Conversation. Coppola was a director who was not only at the top of his game; he was at the apex of cinema. Has any filmmaker ever released two better films in a single year? (The answer is no.) The Conversation is a classic New Hollywood film, the type of movie that everyone is referring to when it's spouted that they don't make 'em like they used to.
At the heart of the film is an incredible performance from Gene Hackmanplaying Harry Caul, a man who mistreats his mistress, plays jazz well and lives as if everything in life is a conspiracy. He's unlikeable but fascinating. It's all backed up by the great edit and sound design from the legendary Walter Murch.
Coppola was inspired by Michelangelo Antonioni's Blowup, about a photographer who believes he has snapped a murder. The Conversation tells the story of a surveillance expert who thinks he's recorded a murder plan. But what the films are really about is man's grasp on his own reality. Do we know our own minds, or do we only see and believe what we want? Can this explain why some people don't realise that The Conversation is better than Godfather 2? – KA
5. La dolce vita (Federico Fellini, 1960)
1960 was all about the cinema italiano! The Italians solidified their status as the best in European art cinema when Federico Fellini scooped the Palme d'Or and Michelangelo Antonioni nabbed the runner-up Jury Prize for L'avventura. My personal favourite Palme winner and the only film to land two #1 votes in this survey (Bil Antoniou was the other), few films encapsulate everything there is to love about the Cannes Film Festival like La dolce vita. Fellini's masterpiece has all the glitz and glamour of a red carpet premiere with arthouse sensibility to boot. Marcello Mastroianni stars as a celebrity journalist during a whirlwind week covering "the sweet life" of Rome's finest. This exquisitely shot film oozes with the excesses and indulgences that regular folks crave while being voyeurs to celebrity.
Fellini captures the tragic emptiness that underlies the high life, reminding us that the thrills we enjoy through the lenses of paparazzi are mostly sad and pathetic reminders of our materialist impulses. The scene at the Trevi Fountain with Anita Ekberg and a well-directed cat remains one of cinema's most iconic scenes and continues to inspire gaggles of selfies at the Italian landmark—even during the peak of coronavirus frenzy. La dolce vita went on to set box office records for foreign films in North America, proving that international fare could be commercially and critically successful if given the right platform. Italy surprisingly declined to submit La dolce vita in the Best Foreign Language Film Oscar race, but the film netted four nominations including Best Director for Fellini and a win for Piero Gherardi's fabulous costumes. La dolce vita is also immortalised in the name of my cat, Fellini. – PM
4. The Third Man (dir. Carol Reed, 1949)
Can you hear the zither? Anton Karas' theme for Carol Reed's postwar noir topped the international music charts the year after its Cannes win for Grand Prix du Festival International du Film (the precursor to the Palme d'Or). Starring Orson Welles, the film beat out other films by Michelangelo Antonioni, David Lean, Robert Wise, and Joseph L. Mankiewicz and has since been voted the greatest British film of all-time by the British Film Institute. Cannes didn't award prizes in 1947 and wasn't held in 1948 so The Third Man's win was a statement for the festival as it began to stake its claim as one of the world's most-important film festivals.
After Cannes, the film went on to earn three Academy Award nominations, winning only Best Cinematography for a black-and-white film. A stylistically bold look with Dutch angles, the murder mystery featuring a truly international cast at once feels both timely and ageless, even 70-years later. – RW
3. Pulp Fiction (dir. Quentin Tarantino, 1994)
The second film by Quentin Tarantino remains his best. (Stop saying Jackie Brown under your breath over there.) Anyway, one thing that we can't argue about is that it's the only one with a Palme d'Or. It's also the film that made pop-violence become a cultural reference point and the term Tarantino-esque enter the film lexicon. The dialogue has more memorable lines than stars in the sky. And, if you think that's hyperbole, it was also, in 1994, the last great AMERICAN film of the 20th Century. (Forrest Gump can just jog-on).
There are so many great characters and career-high performances. The lovestruck diner robbers, Pumpkin (Tim Roth) and Honey Bunny (Amanda Plummer), henchmen Vincent Vega (John Travolta) Jules Winnfield (Samuel L. Jackson) and The Wolf (Harvey Keitel), the criminal mastermind Marsellus Wallace (Ving Rhames) and his dancing adrenaline junkie of a wife, Mrs. Mia Wallace (Uma Thurman). Oh, and let's nor forget boxer Butch Coolidge (Bruce Willis) or the gimp. The film made $5 shakes a thing, started a dance craze, and had one of the all-time great soundtrack albums. But the greatest trick of them all, is the way the edit plays with time, so that the story can come full circle. It's so good, that it can even carry Tarantino's ham acting in the gourmet coffee scene. – KA
2. Blow-up (dir. Michelangelo Antonioni, 1967)

A true feast for the senses, Michelangelo Antonioni's flawlessly shot post-modern thriller captures Mod London like no film before or since. The plot centres around Thomas, a successful photographer tired of the tedium of drug use and casual sex, whose life takes a turn when he photographs a possible murder. But don't look for the tidy resolutions or linear storytelling of a conventional whodunnit. Instead, Antonioni—in his first English language film—goes all out with style and symbolism, playing with our interpretation of reality and the world around us.
Starring David Hemmings, Vanessa Redgrave and Sarah Miles, with cameos from Jane Birkin and Veruschka, the cast list reads like a who's who of the youthful counterculture era. Add in a score from Herbie Hancock, an appearance by Jimmy Page and The Yardbirds, a slew of wardrobes straight off Carnaby Street, and dialogue from Royal Court "angry young man" playwright Edward Bond, and you've got the most definitive and vivid snapshot of the Swinging '60s. With its relaxed sexuality and themes of perception, Blow-Up was a breath of fresh air to critics when it debuted in 1967 and, once seen, it's not hard to imagine why. Antonioni's film is an enigmatic masterpiece that belongs on every film lover's must-watch list. – EB
And the Shelf team's pick for the best Cannes Palme d'Or winner is…
1. Parasite (dir. Bong Joon-ho, 2019)
The most recent Palme winner was also the runaway favourite in our Shelf survey. Parasite is the only film to appear in every ballot submitted for this project. It isn't recency bias, either. This classically-inclined crowd agrees that Bong Joon-ho's wicked satire deserves to stand the test of time with the iconic films listed above. Parasite's playful treatise on class warfare will be studied for years to come. So too will its ingenious construction from the balletic choreography to the rich compositions to the brilliant production design to the absorbing tempo of the action. It's a brilliantly executed film that rewards multiple viewings.
Parasite is also a worthy film to celebrate the power of the Palme d'Or. It is art cinema at its finest and Cannes at its finest. It's crazy, elegant, lovely, wicked, and wild–as enlightening as it is entertaining. It's a true cinematic experience best enjoyed on the big screen with a crowd of enthusiastic film geeks. Parasite won the Palme unanimously just when the festival was starting to feel anachronistic. Bong's film is the exactly what festivals like Cannes are all about. It's the kind of movie that gets people talking. There's no doubt that a driving factor behind its unprecedented Best Picture Oscar win (a first for a foreign language film) was the passionate cinephilia it inspired. A rapturous Cannes debut gave Parasite momentum that made it the must-see talk of the town at every festival it played. The bar is set extraordinarily high for future winners. – PM
What are your favourite Cannes Palme d'Or winners? Let us know in the comments or on Facebook and Twitter! (Boos are fine, in the spirit of Cannes!)
Advertisement
---
---
Advertisement
---
FROM AROUND THE WEB
Advertisement